Contact Us
Institutional Communications
Bureau of Mines Building, Room 137
Laramie
Laramie, WY 82071
Phone: (307) 766-2929
Email: cbaldwin@uwyo.edu
UW's Kuznetsova Receives Hollon Family Award
June 29, 2020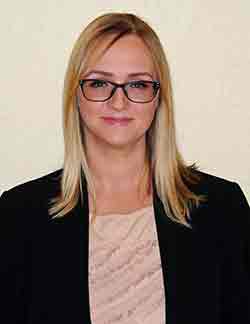 Maria Kuznetsova
When students and colleagues describe University of Wyoming instructor Maria Kuznetsova, they use adjectives such as "excellent," "innovative," "dedicated" and "caring."
Kuznetsova, an associate lecturer of psychology at UW-Casper, is the recipient of the 2020 Hollon Family Award for Teaching Excellence in Off-Campus Programs. In 1986, C.E. "Jerry" Hollon, a former UW trustee, established the award to recognize "contributions to the general extension outreach programs of the university."
Kuznetsova's courses include "Introduction to Clinical Psychology," "Adolescent Development" and "Psychology of Adulthood." For most classes, she blends her distance course offerings with in-person delivery to her Casper students, says Narina Nunez, a professor in the UW Department of Psychology.
"The students in Casper are taking a traditional course and expect the attention and intimacy that one might expect in a small on-the-ground class. The students at the other sites join a video conferencing class and have different expectations," Nunez says. "I can't imagine being able to combine these two different class formats into a successful teaching experience. And yet, Maria clearly does."
Regardless of the course setup, students consistently give Kuznetsova high marks on her teaching evaluations.
"Examining her evaluations over the last few semesters, she averages scores in the 4.6 range," says Sean McCrea, a professor and head of the UW Department of Psychology. "These scores consistently exceed the benchmarks of the college and place her among the best instructors in our department."
Students praise Kuznetsova for her effective and engaging teaching style.
"She ensures students understand the material and is engaged with students 100 percent of the time. I look for her name when selecting classes," a student wrote in a teaching evaluation.
"Her interactive video lectures and weekly announcements are very effective toward instructing the class well," another student wrote.
Kuznetsova uses a variety of teaching applications to keep her classes interesting.
"Dr. Kuznetsova embodies the highest levels of achievement in distance education," says Brent Pickett, UW-Casper dean. "She takes platforms that are often seen as impersonal and anonymous, and makes them personal and engaging."
A former student agrees.
"I understand that distance learning can be a challenge, but Dr. Kuznetsova makes it seem like you are learning in a classroom setting," says Tiffany Horne, one of Kuznetsova's nominators. "Her timely responses and helpful feedback are specific to each student. Dr. Kuznetsova is a professor who shows passion in helping her students and is always easy to reach when questions arise."
Students and colleagues alike note that Kuznetsova cares about her students' success, both in and out of the classroom.
"She helped me not only with classes, but also with future endeavors and offered advice on what steps to take next," wrote a student in a teaching evaluation.
"Maria demonstrates real dedication to her students and their well-being," McCrea says. "As part of her service, she leads the Psi Chi honor society chapter in Casper, which provides academic and career mentoring for students."
Kuznetsova joined the UW faculty in 2011 and is the sole Department of Psychology faculty member at UW-Casper.
"If I had to describe Maria's place in our department, I would say that 'she's our rock,'" Nunez says. "No matter what teaching assignment gets thrown at her, she always delivers a rock-solid performance."
Kuznetsova received a diploma of higher education in economics (2000) from Syktyvkar State University in Russia. She earned her M.S. in clinical psychology (2005) from the University of South Carolina-Aiken and her Ph.D. in developmental psychology (2011) from Virginia Commonwealth University.
Contact Us
Institutional Communications
Bureau of Mines Building, Room 137
Laramie
Laramie, WY 82071
Phone: (307) 766-2929
Email: cbaldwin@uwyo.edu