Contact Us
Institutional Communications
Bureau of Mines Building, Room 137
Laramie
Laramie, WY 82071
Phone: (307) 766-2929
Email: cbaldwin@uwyo.edu
UW's Ward Receives Honor for Excellence in Teaching
June 22, 2020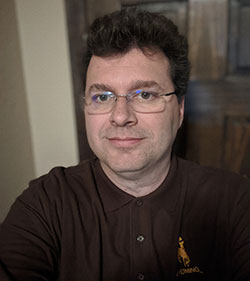 Jim Ward
An effective and engaging instructor who has dedicated his career to helping students understand the various aspects of his field is a recipient of a top teaching award at the University of Wyoming.
Jim Ward, a senior lecturer in the Department of Computer Science, is one of three recipients of the John P. Ellbogen Meritorious Classroom Teaching Award. The award was established in 1977 by businessman John P. "Jack" Ellbogen to "foster, encourage and reward excellence in classroom teaching at UW." Other Ellbogen winners are Michelle Chamberlin, an associate professor in the Department of Mathematics and Statistics, and Kate Northrop, an associate professor in the Department of Visual and Literary Arts.
"His willingness to teach modern computing practice is evident throughout Jim's career. Since I've known him, he has taught courses in computer hardware, networking, system administration and computer security," says Ruben Gamboa, professor and head of the Department of Computer Science.  "When a new idea becomes 'hot' in computing, Jim is the first to learn it and bring it to our students."
Ward regularly teaches "Computer Science II," "Operating Systems Design," "Mobile Application Programming" and "Advanced Mobile Programming." Additionally, he serves as the department's system administrator, maintaining and supporting the department's equipment.
"Jim is constantly working on the course material for all his courses," says Kim Buckner, a senior lecturer of computer science. "He does an outstanding job of ensuring that the courses keep up with current changes and trends in computer science."
To better facilitate student learning, Ward has received grants and donations for smartphones and other equipment, including virtual reality headsets, so that students can test their applications and complete assigned projects. He recently received the John and Sally Steadman Endowment and College of Engineering and Applied Science Grant for Undergraduate Teaching Improvement, which he used to purchase Raspberry Pi devices for student use.
Ward's students note his strong command of the subject matter and his ability to make the material relevant and practical.
"Dr. Ward is probably the best professor I have had in any class so far," one student wrote in a teaching evaluation. "He presents all of the relevant information clearly and concisely; the assignments are very helpful in understanding why the material is important and directly seeing how it all works."
"Not only is his command over all material he teaches entirely top-notch, but the quality of his personally curated and developed supplemental course materials is unprecedented," says Finley McIlwaine, a former student and one of Ward's nominators. "The homework assignments, the course projects and the examples he provides are all perfectly tuned to maximize the opportunities that his students have to learn."
A former student cites Ward's dedication to his students' success, both in and out of the classroom.
"Jim Ward is a teacher of the highest quality and an even better person. I know, for a fact, that I wouldn't be in my current career without his instruction and care for the betterment of his students," says Jack Hess, a software engineer at Brother Mobile Solutions in Westminster, Colo.
A colleague agrees.
"I have worked with Jim for over 20 years and have always been impressed with his work ethic and ability to teach most courses in our curriculum," says Allyson Anderson, a senior lecturer of computer science. "He honestly cares about student success."
Ward earned his bachelor's (1993) and master's (1997) degrees in computer science from UW.
Contact Us
Institutional Communications
Bureau of Mines Building, Room 137
Laramie
Laramie, WY 82071
Phone: (307) 766-2929
Email: cbaldwin@uwyo.edu