Contact Us
Institutional Communications
Bureau of Mines Building, Room 137
Laramie
Laramie, WY 82071
Phone: (307) 766-2929
Email: cbaldwin@uwyo.edu
A Message from the President: A Crucial Weekend for Our University
September 4, 2020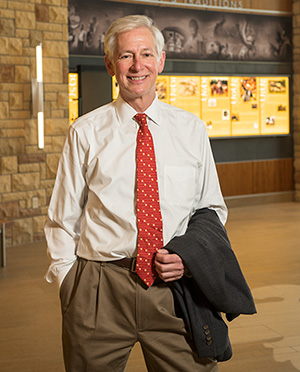 President Ed Seidel
Dear members of the UW community:
Most years, the Labor Day weekend provides an extra day of respite at the start of the fall semester, helping ease the transition to the academic year while enjoying time with family and friends and engaging in a wide variety of activities.
Unfortunately, that's not the case this year.
Because of our compressed fall semester, Monday, Sept. 7, is an instructional day for our students and faculty members, and a regular work day for our staff. In addition, it comes in the middle of a five-day pause to our phased fall return plan, triggered by an increase in COVID-19 cases among our students on campus and in Laramie.
There is no question that these are stressful times for all of us. I do not want to add to that stress, but I'm writing to let you know how crucial this weekend is for us to return to our phased return plan -- and have a chance at achieving our goal of bringing everyone back to campus Sept. 28 for eight weeks of in-person experiences. Everything we have done has one goal, and that is to be able to safely provide an in-person campus experience for the UW community.
This morning, I took part in a White House webinar event with presidents and top administrators from hundreds of universities across the country. Vice President Mike Pence and Dr. Deborah Birx, the White House's national coronavirus response coordinator, were among the participants. The discussion was wide-ranging and detailed, but the key message that emerged for me was Dr. Birx's exhortation to all of us: Ask your students on or near campus not to go home over Labor Day weekend.
We have had infections on campus -- enough that we have gone into a five-day pause -- and we are still assessing the extent of the outbreak. You could be infected, and if you were to go home, even though you may be feeling fine, you could risk exposing your more vulnerable family members to COVID-19.
I'm repeating that message from Dr. Birx here and fervently hoping you will seriously consider limiting your travel and exposure during Labor Day weekend. I also am adding a little more for all members of the UW community. For us to have a chance to come out of our pause next week, we simply cannot do things this weekend that would increase the potential for a further outbreak among our students, employees and the Laramie community. We must be smart and follow the restrictions and guidelines that are part of our pause plan.
What does that mean? Don't go to large gatherings. Only spend time with people in your "pod" -- for students in the residence halls, those people are those who live on your same floor; for everyone else, it's the people with whom you live.
Going outdoors is fine, as long as you do it in small groups of 2-3 people who are part of your pod. In fact, this weekend could be a great opportunity to enjoy the natural wonders surrounding our community, before the unseasonably cold, wet weather expected to arrive early next week. But please avoid stopping at the store to and from your excursion, if at all possible. If there are other people around, mask up and keep your distance. By all means, don't organize or go to parties or get-togethers where COVID guidelines -- such as distancing and wearing of face protection -- aren't being observed. Our analysis shows that the current outbreak has been driven in part by a small number of parties where unsuspecting infected people were present.
If you go to church, please wear a mask and keep your distance. If you have a job and don't get the weekend off, follow the COVID guidelines at your workplace.
For those younger than people of my generation, there's a temptation to think COVID-19 isn't a big deal. But our experience of the past week at UW shows otherwise. A number of our students who were infected after attending off-campus parties are now quite ill; in fact, one of them was transported to the emergency room last night.
We're working hard to get a handle on the magnitude of the outbreak that prompted the pause. If no other outbreaks occur, we may very well be in a position to get back on track next week.
The president of Notre Dame reported in this morning's meeting that his university successfully emerged from a pause after a serious outbreak and now has only a small number of positive cases each day, because students and employees changed their behaviors.
Please know that I understand your frustration at everything being thrown at you this year. Also know how much I appreciate the efforts of so many to weather these stormy times. The UW Cowboy values of resilience, courage and consideration for others will carry us through, if we all make the commitment to flex them -- this weekend and beyond.
Sincerely,
Ed Seidel, President
Contact Us
Institutional Communications
Bureau of Mines Building, Room 137
Laramie
Laramie, WY 82071
Phone: (307) 766-2929
Email: cbaldwin@uwyo.edu