Contact Us
Institutional Communications
Bureau of Mines Building, Room 137
Laramie
Laramie, WY 82071
Phone: (307) 766-2929
Email: cbaldwin@uwyo.edu
Farkas Adds Economic Development Role at UW
November 13, 2020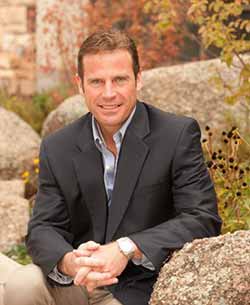 Steve Farkas
Steve Farkas, assistant dean in the University of Wyoming College of Business, is taking a new, additional role aimed at connecting the university with external partners in pursuit of projects to boost Wyoming's economy.
Farkas has agreed to serve as assistant vice president for strategic partnerships in UW's Office of Research and Economic Development. His service in this capacity will be in addition to his ongoing role in the College of Business, where he leads the college's strategy and engagement initiatives. 
"I am thrilled that Steve Farkas is joining our economic development team," says Ed Synakowski, vice president for research and economic development. "He has a keen understanding of the necessity of effective partnership between different sectors of the Wyoming economy and of these sectors with the university. And, he has proven success in this domain. His service will be backed by extensive, successful leadership of his own in the Wyoming business world. It will be a privilege to support Steve as he levers his experience and ability to bring business interests and the university together for the betterment of the state's economy."
Farkas has experience in creating strategic, collaborative partnerships that deliver mutual value to both internal and external stakeholders, and this will be the focus of his expanded efforts. He brings to UW a history of private-sector success, having served in a variety of executive leadership positions. These roles and their experiences have led to innovative approaches to designing and delivering industry-relevant programs, translating to significant increases in student enrollment, experiential learning and placement.
"Already in my brief time here, I've come to see and understand Steve's effectiveness in making connections in the Wyoming business world and with the university that bring out the best from all sides," UW President Ed Seidel says. "He sees opportunities where others have not and readily acts on them. It is exciting to reach within UW to find this talent and direct it toward creating economic opportunities that will serve Wyoming."
Before coming to UW, Farkas served as chief operating officer and senior vice president for several private equity portfolio companies. In addition to leading merger and acquisition transactions, his key areas of leadership included organizational integration and business process optimization. Farkas is a strategic adviser for numerous businesses, ranging from startups to large corporations, and plays an active role in local, regional and state economic development.
"My outlook has always been one of doing what I can to enable success for others. I look forward to using my role and levering my business and university experiences to create economic success for Wyoming businesses and students," Farkas says. "I am excited to serve President Seidel's vision for UW to become an engine of economic transformation in Wyoming, especially as he, Vice President Synakowski and I have a shared understanding of the necessity of effective partnership in enabling this transformation to happen."
Contact Us
Institutional Communications
Bureau of Mines Building, Room 137
Laramie
Laramie, WY 82071
Phone: (307) 766-2929
Email: cbaldwin@uwyo.edu