Contact Us
Institutional Communications
Bureau of Mines Building, Room 137
Laramie
Laramie, WY 82071
Phone: (307) 766-2929
Email: cbaldwin@uwyo.edu
Small Acreage Outreach Coordinator Receives UW Extension's Creative Excellence Honor
December 21, 2020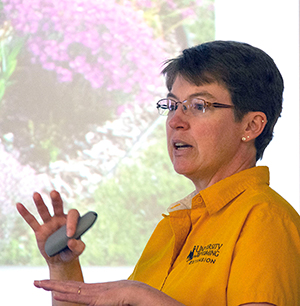 Jennifer Thompson
Developing Facebook Live shows and other innovative methods for University of Wyoming Extension to deliver resource information to small-acreage owners in the face of COVID-19 has led to the originator receiving extension's Creative Excellence Award.
Jennifer Thompson, small acreage outreach coordinator for UW Extension, organized the digital delivery effort earlier this year when COVID-19 halted all UW Extension in-person events across Wyoming.
Thirty-five shows were aired April to September as part of the Barnyards and Backyards small acreage project in Wyoming. The project's goal is to provide Wyoming landowners with the information and resources they need -- through workshops, its www.uwyo.edu/barnbackyard website and the Barnyards & Backyards quarterly magazine -- to sustainably manage their land.
"Jenny took the 2020 in-person programming challenges in stride and created a mechanism to deliver educational opportunities on a wide variety of subjects under the umbrella of Barnyards and Backyards," says Jeff Edwards, extension pesticide training coordinator.
The Facebook Live programs launched April 8. Thompson had researched delivery methods and solved the technical challenges.
"None of which would have been executed so flawlessly without her dedication to the continued education of others," Edwards says.
The recordings are available by going to www.uwyo.edu/barnbackyard.
Thompson coordinated every show, invited guest speakers, explored the possibilities of Zoom software, and advertised the shows, says Jeremiah Vardiman, an extension educator based in Park County.
Viewers could interact with the hosts and guest speakers. Shows also were recorded for later viewing, and related materials were made available.
"The Barnyards and Backyards Live was a new creative twist on virtual program delivery because it provided educational information in a casual conversation with the hosts and guest speakers, and also allowed participants of the show to ask their specific questions," he says.
Thompson organized meetings after each show to discuss what may or may not have gone well, edited the recordings and posted the videos to the web for later viewing, says Abby Perry, an extension educator based in Carbon County.
"She would be the first to point out everyone else's contributions," Perry says. "But she recognized an opportunity to blaze the trail and created a solution to a difficult situation."
More about Thompson is available at https://youtu.be/mF-5j3nmsWE.
Contact Us
Institutional Communications
Bureau of Mines Building, Room 137
Laramie
Laramie, WY 82071
Phone: (307) 766-2929
Email: cbaldwin@uwyo.edu