Contact Us
Institutional Communications
Bureau of Mines Building, Room 137
Laramie
Laramie, WY 82071
Phone: (307) 766-2929
Email: cbaldwin@uwyo.edu
UW Professor Jean Garrison Receives Seibold Professorship
February 8, 2021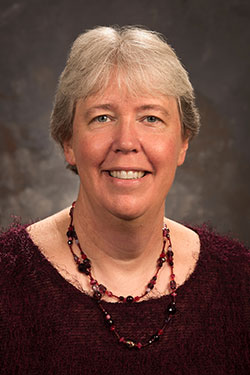 Jean Garrison
Jean Garrison, a University of Wyoming professor of political science and international studies, is the recipient of the Seibold Professorship for 2021-22.
The Seibold award -- given annually to UW College of Arts and Sciences faculty members who are focused on teaching -- will enable Garrison to spend the year curating elements of the Malcolm Wallop Civic Engagement Program, which she directs. The program creates greater depth and access in virtual civic engagement programming for K-12 social studies teachers.
"This project is a valuable UW partnership with Wyoming educators to address an immediate need due to the pandemic, but also develops a sustainable model that addresses UW's statewide land-grant mission virtually," Garrison says. "By working with talented partners here at UW and around the state, we plan to expand the content of this curriculum catalog by taking feedback from teachers about what content their students need most and to expand the reach into other areas covered by Wyoming content and performance standards."
During her Seibold year, she also will design a service-learning component for her classes and explore a partnership with F.E. Warren Air Force Base in Cheyenne in national security studies. Garrison will build on a grant partnership with the Freie Universität Berlin in Berlin, Germany, on "Contestations of the Liberal Script" to apply the "civic engagement lens to questions of polarization and hyperpartisan politics from a local to global scale."
Through the partnership with Freie Universität Berlin, UW hosted a virtual global workshop last September on "Global Leadership Crisis, Rising Inequalities and Culture Wars: Contestations of the Liberal Script in North America" with participants from four continents. As part of the Seibold Professorship, Garrison will work with the leadership team on a book project, which is an outgrowth from the workshop, and plan for an in-person workshop hosted by UW.
"It is an honor to receive the Seibold Professorship, which provides me the time to work on projects that reflect my commitment to bring real-world experiences to our students and to share our work with communities around the state," Garrison says.
The Seibold Professorship allows faculty members a year's leave to pursue in-depth projects and research opportunities that will enrich their teaching as well as advance their professional lives.
Contact Us
Institutional Communications
Bureau of Mines Building, Room 137
Laramie
Laramie, WY 82071
Phone: (307) 766-2929
Email: cbaldwin@uwyo.edu