Contact Us
Institutional Communications
Bureau of Mines Building, Room 137
Laramie
Laramie, WY 82071
Phone: (307) 766-2929
Email: cbaldwin@uwyo.edu
UW Jazz Ensembles to Perform Combined Concert March 25
March 22, 2021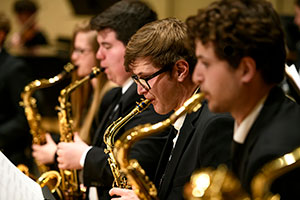 UW Department of Music jazz musicians will present a combined virtual concert at 7:30 p.m. Thursday, March 25. (UW Photo)
University of Wyoming Department of Music jazz musicians will present a combined virtual concert at 7:30 p.m. Thursday, March 25.
Performing will be the Wyoming Jazz Ensemble, UW Jazz Ensemble II and the UW Jazz Combos. Go to www.youtube.com/watch?v=k9CRIvQhmmQ for free access to the concert.
UW Jazz Ensemble II, directed by Andy Wheelock, will open the concert with three pieces by Sammy Nestico: "Nobody's Perfect," "Bundle O' Funk" and "Wind Machine." UW Jazz Combo III, directed by Michael Johnston, will follow with "Recorda Me" by Joe Henderson; "Blues in the Closet" by Oscar Pettiford; and "Chameleon" by Herbie Hancock.
UW Jazz Combo II, directed by Tom Hartnett, will perform "Woody'n You" by Dizzy Gillespie and "St. Thomas" by Sonny Rollins. UW Jazz Combo I, directed by Ben Markley, follows with "Black Nile" by Wayne Shorter; "Boy, What A Night" by Lee Morgan; and Victor Feldman's "Lisa."
Closing out the concert will be the Wyoming Jazz Ensemble, directed by Markley, performing "It Could Happen to You" by Jimmy Van Heusen and arranged by Markley, as well as several pieces by Fred Sturm: "Aim High," "Riverscape," "A Hymn for Her" and "Skyhawk."
Contact Us
Institutional Communications
Bureau of Mines Building, Room 137
Laramie
Laramie, WY 82071
Phone: (307) 766-2929
Email: cbaldwin@uwyo.edu