Contact Us
Institutional Communications
Bureau of Mines Building, Room 137
Laramie
Laramie, WY 82071
Phone: (307) 766-2929
Email: cbaldwin@uwyo.edu
Buffalo's Carlos Gonzales is UW Tobin Memorial Award Recipient
May 25, 2021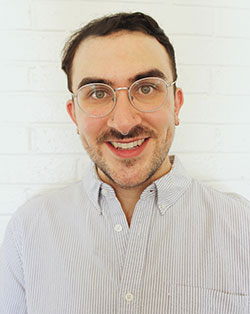 Carlos Gonzales
Carlos Gonzales, of Buffalo, is the 2021 winner of the Tobin Memorial Award as the University of Wyoming's outstanding graduating male.
He recently graduated with a 3.97 grade-point average, majoring in sociology, and gender and women's studies, with minors in honors, queer studies and statistics.
UW School of Culture, Gender and Social Justice Professor Cathy Connolly has known Gonzales for four years, serving as his adviser.
"I have been waiting years to be able to write this letter, as I have known that Carlos was that extraordinary of a student," she says.
Assistant Lecturer Alison Harkin concurs that Gonzales is one of those rare students who is not only an analytical thinker and a skilled writer, but also a "truly empathic and creative person." He brought original observations to in-class discussions and a supportive attitude toward other students and their work.
"I, and all of his classmates, looked forward to his contributions to each class session," Harkin adds. "His work in the class also demonstrated superior research and writing skills, and an ability to go beyond the requirements of each assignment to offer truly original insights and a deep understanding of social justice and compassion for all people."
Another nominator, Christi Boggs, an associate director of digital teaching and learning in the Ellbogen Center for Teaching and Learning, writes that Gonzales possesses all of the qualities of the Tobin Award.
"I do not feel that I have adequate skill with words to adequately convey the amazingness that is Carlos Gonzales," Boggs says. "I feel very fortunate to have been a small part of his journey and he of mine. Carlos will continue to exceed expectations in whatever he chooses, going forward with compassion, kindness and thoughtfulness that is only anchored by his competence and hard work."
During the past three years, James Wheeler, Associated Students of UW senior program coordinator, has personally advised more than 40 student leaders in various capacities of student government. He says these students are "exceptional, determined and committed to a greater good."
"Without a doubt, Carlos has been my top student in every capacity," Wheeler says. "He is dedicated, responsible, inquisitive and exceptionally bright. I look forward to seeing where life takes him. The world is in need of more advocates, scholars and Cowboys like Carlos."
Being raised in Wyoming makes a person realize that the world is both big and small at the same time, Gonzales says.
"My time at the University of Wyoming taught me about its vastness, exposing me to new perspectives that expanded my worldview," Gonzales says. "The University of Wyoming welcomed me into a community of scholars, activists and leaders who supported me and showed me how the biggest opportunities often come from the smallest places."
During his UW career, Gonzales has won several honors, such as the Sara L. Axelson Medal of Meritorious Service Award; Diversity, Equity and Inclusion Magnificent Mile Award; and three Department of Sociology awards. He also served on several UW committees, and he contributed to the Laramie community through his leadership and scholarship.
"These experiences inspired my continued education, and I look forward to carrying the knowledge and skills I developed at UW with me in the future," he adds. "I am reminded that, sometimes, the smallest communities can create the biggest change. I know that UW has changed me profoundly, and I am forever grateful for the support and love I found here."
Contact Us
Institutional Communications
Bureau of Mines Building, Room 137
Laramie
Laramie, WY 82071
Phone: (307) 766-2929
Email: cbaldwin@uwyo.edu