Contact Us
Institutional Communications
Bureau of Mines Building, Room 137
Laramie
Laramie, WY 82071
Phone: (307) 766-2929
Email: cbaldwin@uwyo.edu
Ferre-Pikal Receives UW's Ellbogen Meritorious Classroom Teaching Award
May 24, 2021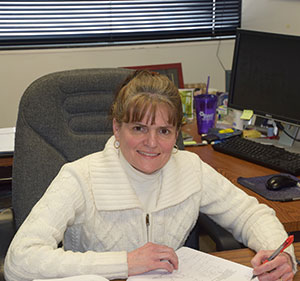 Eva Ferre-Pikal
A longtime University of Wyoming faculty member who has helped hundreds of students navigate difficult required coursework in electrical engineering has been honored for her excellent work with students.
Eva Ferre-Pikal, an associate professor in the Department of Electrical and Computer Engineering, is one of two recipients of the 2021 John P. Ellbogen Meritorious Classroom Teaching Award. The award was established in 1977 by businessman John P. "Jack" Ellbogen to "foster, encourage and reward excellence in classroom teaching at UW." The other Ellbogen winner is Lori Howe, a visiting assistant professor in UW's Honors College.
Ferre-Pikal displays "such an amazing and intense dedication to providing the best possible student experience while still ensuring that the students learn the needed concepts and are held to very high standards," says Cameron Wright, College of Engineering and Applied Science acting dean. "She continually examines her own teaching and coursework, with a proactive introspection and a dedication to growth as a teacher that I've seldom seen in anyone else."
"Dr. Ferre-Pikal has gone far beyond the call of duty to offer highly relevant courses to our students, keep them engaged in difficult material, and treat them every step along the way with the utmost care and respect," says Professor John McInroy, head of the Department of Electrical and Computer Engineering.
Ferre-Pikal, who has been a member of UW's faculty since 1998, teaches courses in electronics and circuits, along with a first-year seminar she developed, "Bits & Bytes: A Taste of Electronics."
"The topics Eva teaches are considered difficult even by electrical engineering standards. They are hard, yet our electrical engineering students love taking Eva's courses," Wright says.
Students have attested to her excellence for many years, as she has received the Mortar Board "Top Prof" honor three times, along with multiple teaching awards from campus engineering organizations.
"If it were not for Dr. Ferre-Pikal's guidance and support, I would not have graduated an engineer," says Hannah Miller, now an advanced systems engineer who develops electrical architectures for Stellantis (formerly Fiat Chrysler Automobiles). "She is an excellent teacher, guiding students through challenging materials with patience and dedication. She routinely goes above and beyond, supporting and taking time for students at an unparalleled level."
"Let's face it: Every engineering class is like experiencing an hour in a dunk tank; Dr. Ferre-Pikal understands this but ensures her dunk tank is not a one-hour session under water," says Jason Vap, a former student who now is a U.S. Air Force colonel with a Ph.D. from the Air Force Institute of Technology. "Her teaching methodology is one that provides the occasional breath. She does this in a way that ensures her students maintain a persistent understanding throughout the class, while also building the necessary mental endurance required to solve tough engineering problems."
Ferre-Pikal also is an adviser for UW's student chapter of the Society of Women Engineers, which encourages more women to enter the science, technology, engineering and mathematics (STEM) fields.
"I know that things are changing in the STEM fields; more women and girls are becoming interested in being involved. To have a role model like Dr. Ferre-Pikal helped me remember throughout my collegiate career that I could pursue this field of study, too," says former student Merritt Singley, now an electrical engineer at Puget Sound Naval Shipyard in Bremerton, Wash.
Ferre-Pikal earned her Ph.D. from the University of Colorado, her master's degree from the University of Michigan, and her bachelor's degree from the University of Puerto Rico, all in electrical engineering.
Contact Us
Institutional Communications
Bureau of Mines Building, Room 137
Laramie
Laramie, WY 82071
Phone: (307) 766-2929
Email: cbaldwin@uwyo.edu