Contact Us
Institutional Communications
Bureau of Mines Building, Room 137
Laramie
Laramie, WY 82071
Phone: (307) 766-2929
Email: cbaldwin@uwyo.edu
Madelyn Lundblad Honored with Peg Tobin Excellence Award at UW
May 25, 2021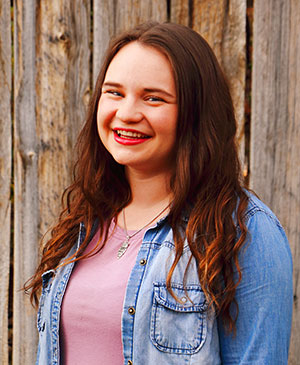 Madelyn "Mady" Lundblad
Madelyn "Mady" Lundblad, of Aurora, Colo., is the recipient of the Peg Tobin Excellence Award as the University of Wyoming's outstanding graduating student. The award recognizes students for exhibiting the finest leadership, academic integrity and citizenship qualities.
As the first traditional college student in her family, Lundblad recently graduated with a B.A. in elementary education, a B.S. in psychology and a minor in music. During her UW career, she received several academic awards and served as a student leader.
One of the more meaningful projects she was involved in, especially during the pandemic, was Cowboy Coaching, a peer-mentoring program in which experienced students work with first-year students to help them become acquainted with UW and feel a sense of belonging. She also was an orientation leader for the UW Office of Admissions.
Although technically not a first-generation college student, Lundblad's college experience is "one that could closely relate to a first-generation student," says Katie Carroll, UW Admissions assistant director.
"Mady's perseverance and self-advocacy are two of the many characteristics that have helped her overcome the financial challenges, as well as other similar challenges that a first-generation student may experience while transitioning to UW," Carroll says. "Mady is a very driven student and has excelled academically while having a double major and minor to obtain while at UW. Mady also has held student employment opportunities on campus and participated in undergraduate research, all while still being involved in both the UW and Laramie communities."
At times, Carroll says she wishes that she "could have cloned Mady" to have a full team that possessed her energy, creativity, diligence, dedication and passion for helping students.
"Time and time again, Mady thought outside the box and spent many hours outside of those required to connect with her students," Carroll adds. "By sharing her personal experiences and how she overcame the challenges she faced while transitioning to UW, Mady met the incoming students on their level, going above and beyond to help answer their questions and welcome them to UW."
Former UW Department of Music faculty member Nicole Lamartine also praised Lundblad for the many activities in which she participated during her academic career. Lamartine had nearly daily contact for five years with Lundblad in at least one of the classes she taught each semester. Lamartine now teaches at the University of California-Santa Barbara.
"Mady is one of those rare and special students who remind us faculty members why our teaching profession is so meaningful," Lamartine says. She adds that Lundblad's achievements and scholarly activity are excellent, but there is a "distinctive quality about Mady that cannot be codified by a rubric or even on paper."
"She is definitively an empathetic, compassionate, dedicated and connective human being," Lamartine says. "Mady focuses on how she is able to lift others up around her; she is devotedly curious and wants to connect in ways beyond language; and she opens her heart to do the hard work to create relationships based in genuineness and true empathy."
Lundblad says being involved in many on- and off-campus projects and programs helped shaped who she is.
"I find purpose in sharing these experiences and my learning with my students, both the first-year students I coach and the elementary students I teach," Lundblad says. "I hope to inspire them to take full advantage of every opportunity available, to become lifelong learners and to apply themselves to the betterment of the global community. I am honored to represent the University of Wyoming domestically and abroad."
Contact Us
Institutional Communications
Bureau of Mines Building, Room 137
Laramie
Laramie, WY 82071
Phone: (307) 766-2929
Email: cbaldwin@uwyo.edu