Contact Us
Institutional Communications
Bureau of Mines Building, Room 137
Laramie
Laramie, WY 82071
Phone: (307) 766-2929
Email: cbaldwin@uwyo.edu
Shannon Person Receives UW Libraries Outstanding Staff Award
May 24, 2021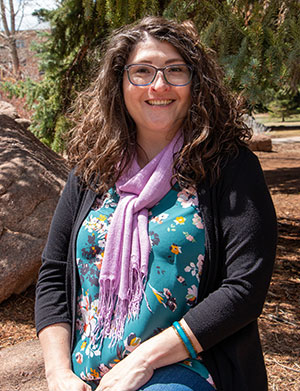 Shannon Person
Shannon Person, manager of the Circulation Help Desk in Coe Library, is the recipient of the University of Wyoming Libraries Outstanding Staff Award for her contributions in 2020. 
The Outstanding Staff Award, funded by the McMurry-Spieles Excellence Fund, honors a UW Libraries staff member who has "demonstrated exceptional service to UW Libraries and made significant contributions to the university and/or the community." Recipients of this award are chosen by a committee of their peers. 
Person has worked in various capacities throughout UW Libraries' User Services since 1999. In her current position, she supervises an area with a large number of student and staff employees; provides  services for the campus community as well as the community at large; and solves problems as they arise. 
Before the COVID-19 emergency shutdown last year, Person had begun preparing Coe Library for a closure. She continued efforts throughout each reopening phase, which included a temporary "pause." Her adeptness and ability to remain flexible allowed her to frequently adjust employees' schedules; keep as many students employed as possible; ensure appropriate personal protective equipment was readily available; and still meet patrons' needs, her colleagues say. 
"Shannon managed her staff well, keeping high standards in place while treating everyone in Circulation with compassion and understanding," wrote Paula Martin, assistant dean of User Services, in her nomination letter. "It is difficult to be working on campus and accepting that risk, while others are safely working from home, and Shannon managed this with grace under pressure." 
Nominators say Person's most notable contribution was her involvement and successful implementation of Curbside@Coe, a contactless pickup service that allowed patrons continued access to resources and the ability to check out items safely throughout the closure. Before rollout of the service, Person had to perform an extensive amount of research; reprogram certain aspects of the software used when checking out material; troubleshoot potential problems; and train and schedule staff.  
"The impact of Curbside@Coe really can't be overstated. It's a service that not only benefited the community … but could be put into action again at a moment's notice should the need arise," Brenna Philbrick, administrative associate in UW Libraries, wrote in her nomination letter. 
In addition to performing her regular work duties, Person's contributions also included covering the duties of the User Services assistant dean for half a year; serving on several committees; ensuring that the department continued to run smoothly; and serving as the main liaison for campus and community contacts.  
"She truly cares about her employees' well-being and regularly checks in with them," wrote Ellie Kerstetter, a senior library assistant and one of Person's nominators. "Shannon constantly strives to do the best she can for the university and the Laramie community."
Contact Us
Institutional Communications
Bureau of Mines Building, Room 137
Laramie
Laramie, WY 82071
Phone: (307) 766-2929
Email: cbaldwin@uwyo.edu