Contact Us
Institutional Communications
Bureau of Mines Building, Room 137
Laramie
Laramie, WY 82071
Phone: (307) 766-2929
Email: cbaldwin@uwyo.edu
UW Professor Named Recipient of Electrochemical Society Award
May 17, 2021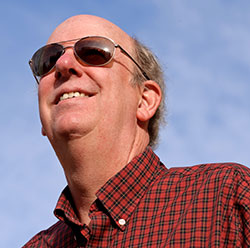 Bruce Parkinson
A University of Wyoming chemistry professor recently was selected to receive the Physical and Analytical Electrochemistry Division David C. Grahame Award from The Electrochemical Society (ECS).
Bruce Parkinson, the J.E. Warren Professor of Energy and Environment in UW's Department of Chemistry and the School of Energy Resources, will be honored during the 239th ECS Meeting, which will take place May 30-June 3. Parkinson will present "My 54 Years of Doing Electrochemistry and What Is New" during the virtual convention.
The Physical and Analytical Electrochemistry Division David C. Grahame Award was created in 1981 to encourage excellence in physical electrochemistry research and to stimulate publication of high-quality research papers in the Journal of The Electrochemical Society. The award is given to a currently active ECS member who has made outstanding scientific contributions to the field.
The award's namesake, David C. Grahame, was a pioneering American physical chemist and professor at Amherst College. His 1947 groundbreaking paper, titled "The Electrical Double Layer and the Theory of Electrocapillarity," outlined the fundamental principles that govern electrical double layer formation at metal-solution interfaces.
"It's a great honor for the department to have one of our faculty members being recognized by this prestigious award which, so far, has been bestowed to only a handful of scientists of outstanding caliber," says Debashis Dutta, a professor and head of the UW Department of Chemistry.
Parkinson's current research covers a wide range of areas including electrochemistry, materials chemistry, nanomaterials, photoelectrochemistry on the surface of Mars and membrane applications of new two-dimensional organic framework materials.
Before joining the UW faculty in 2008, Parkinson was a professor of chemistry at Colorado State University. Before that, he was a research chemist for DuPont Central Research and Development. He also was a senior scientist at the Solar Energy Research Institute -- now known as the National Renewable Energy Laboratory -- where he worked on solar energy conversion.
Parkinson is a fellow of both ECS and the American Association for the Advancement of Science. In 2015, he received the Alexander von Humboldt Foundation Research Award. He has more than 260 publications in peer-reviewed journals and holds five U.S. patents. 
Parkinson earned his bachelor's degree in chemistry from Iowa State University (1972) and his Ph.D. in chemistry from the California Institute of Technology (1977).
ECS has led the world in electrochemistry, solid state science and technology, and allied subjects since 1902. By publishing research, hosting meetings, fostering education and collaborating with other organizations, ECS advances scientific theory and practice. More than 8,000 ECS members from 85-plus countries develop innovative solutions to major global challenges.
For more information, go to www.electrochem.org.
Contact Us
Institutional Communications
Bureau of Mines Building, Room 137
Laramie
Laramie, WY 82071
Phone: (307) 766-2929
Email: cbaldwin@uwyo.edu