Contact Us
Institutional Communications
Bureau of Mines Building, Room 137
Laramie
Laramie, WY 82071
Phone: (307) 766-2929
Email: cbaldwin@uwyo.edu
UW's Howe Receives Ellbogen Meritorious Classroom Teaching Award
May 24, 2021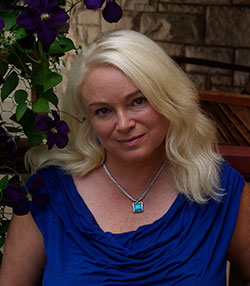 Lori Howe
Over the past two decades, Lori Howe has gone from being a University of Wyoming undergraduate student to one of the university's most accomplished teachers.
Howe, now a visiting assistant professor in UW's Honors College, is one of two recipients of the 2021 John P. Ellbogen Meritorious Classroom Teaching Award, established in 1977 by businessman John P. "Jack" Ellbogen, to "foster, encourage and reward excellence in classroom teaching at UW." The other Ellbogen winner is Eva Ferre-Pikal, an associate professor in the Department of Electrical and Computer Engineering.
"Not only is Lori extremely successful in her teaching for the Honors College, but nearly every student also speaks to the passion, zeal and personal impact she has made upon their lives and careers, both academically and professionally," says Leigh Selting, associate dean of the Honors College. "I can think of no more deserving faculty member for this award."
Howe received her bachelor's degree in Spanish and English from UW in 2000, then earned a master's degree in English in 2002. Over the next eight years, she served in various teaching roles with UW and Laramie County Community College, before receiving a Master of Fine Arts in creative writing from UW in 2012. She continued as an instructor in several UW programs while working toward her Ph.D. in curriculum and instruction, which she received in 2017.
Before taking her current position in the Honors College, she was an associate professional lecturer in UW's Department of English, as well as a fellow in UW's Learning Actively Mentoring Program. Since 2018, she has taught the Honors Colloquium; the Honors College Summer Bridge course; an Honors College first-year seminar, "A Walk Across the World: Popular Film and Interdisciplinary Problem-Solving"; an upper-division Honors College elective, "Saffron, Silk and Broadswords: A Trek Through Great Civilizations"; and an Honors College summer study-abroad course in Spain.
For the past three years, Howe has won UW's Promoting Intellectual Engagement Award for excellence in first-year teaching.
"Lori Howe stands out from the crowd in her professional experience and dedication to her students," says Mary Katherine Scott, also a visiting assistant professor in the Honors College. "I cannot emphasize enough just what an asset she is to the Honors College teaching faculty and the ways she motivates her colleagues to reach for bigger and better."
"Through a mindfully created environment, she empowers her students to voice diverse points of view, engage in critical thinking and challenge their own perspectives," says Breezy Taggart, an Honors College assistant lecturer. "Seeing Dr. Howe's students interact with her and each other on challenging topics reveals her care, attention and compassion in cultivating such a rich, robust and safe educational environment."
Students describe Howe as caring and supportive.
"I feel extremely fortunate to have been able to have Dr. Howe as a professor," says Anna Steele. "Her student-centric work elevates the experience of all her students, as it shows that our thoughts and opinions are valued."
"Dr. Howe is the type of educator all students dream of getting -- someone who is intelligent, caring, creative and inspires passion in students for learning and discussions," says Alea Denney. "I will be forever grateful for having been given the privilege to learn with her."
Contact Us
Institutional Communications
Bureau of Mines Building, Room 137
Laramie
Laramie, WY 82071
Phone: (307) 766-2929
Email: cbaldwin@uwyo.edu