Contact Us
Institutional Communications
Bureau of Mines Building, Room 137
Laramie
Laramie, WY 82071
Phone: (307) 766-2929
Email: cbaldwin@uwyo.edu
UW's Chapman Named President of Wyoming Chapter of Social Workers
July 8, 2021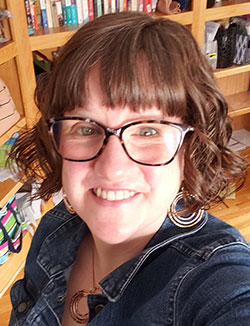 Billie Chapman
Billie Chapman, the University of Wyoming's Division of Social Work field education director, recently was appointed president of the Wyoming chapter of the National Association of Social Workers (NASW).
NASW is the largest membership organization of professional social workers in the world that promotes its members' professional development; maintenance of ethical standards of practice; and support for effective social policies.
Chapman, a UW alumna, has been with the UW Division of Social Work in the College of Health Sciences since fall 2018. She began her current leadership role with the Wyoming NASW chapter July 1.
"I was elected in 2020 for a one-year term as president-elect with the understanding that I would start a two-year term as president this July," she says.
The Wyoming chapter serves its members by providing networking and continuing education opportunities, and acting as the lobbying body for any proposed policies or issues relevant to social work, Chapman explains.
"A couple of examples of particular significance in Wyoming in recent NASW sessions are suicide prevention, mental health licensing and service provision," she adds. "The state chapter also provides assistance with consultation on ethical issues, licensing exam preparation and connecting social workers with job-finding resources."
Like most professional organizations, the Wyoming chapter is working back to full speed now that the COVID-19 pandemic is beginning to subside throughout the state. Chapman says she plans to work closely with Elizabeth "Liz" Dole-Izzo, the state's executive director, as well as state board members, including some UW Division of Social Work alumni, on reconnecting now that statewide pandemic restrictions have been lifted.
She also plans to involve current UW social work students in her efforts, including Bachelor of Social Work (BSW) student Tania Malone, from Casper, who is beginning a term as the BSW representative on the Wyoming chapter's state board.
"The division is very proud of Billie's new leadership role," says Eleanor Downey, director of the UW Division of Social Work. "She brings an outstanding set of leadership skills and extensive social work practice experience in Wyoming to the position. We look forward to increasing student involvement in the organization."
Chapman will assist in planning and facilitating a virtual state NASW conference Sept. 30-Oct. 2. The conference will include continuing education workshops, suicide prevention, clinical supervision trainings and virtual networking opportunities for attendees. Students, professional social workers and others interested in the presented topics can register for the conference.
For more information, go to https://naswwy.socialworkers.org/.
Contact Us
Institutional Communications
Bureau of Mines Building, Room 137
Laramie
Laramie, WY 82071
Phone: (307) 766-2929
Email: cbaldwin@uwyo.edu