Contact Us
Institutional Communications
Bureau of Mines Building, Room 137
Laramie
Laramie, WY 82071
Phone: (307) 766-2929
Email: cbaldwin@uwyo.edu
Fall Issue of UWyo Magazine Celebrates Interdisciplinary Partnerships
September 27, 2021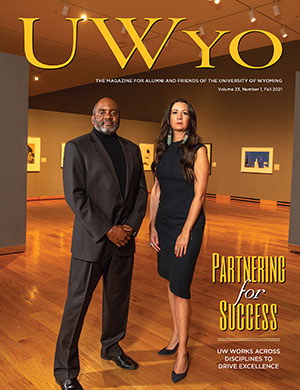 The world's -- and Wyoming's -- biggest issues can't be solved by one viewpoint or one discipline alone. They require multiple perspectives, approaches and ideas.
This belief inspired University of Wyoming President Ed Seidel's interdisciplinary pillar -- one of his four strategic planning pillars for UW, the other three addressing inclusivity and being more digital and entrepreneurial.
The fall issue of UWyo Magazine, UW's flagship publication, celebrates interdisciplinary collaborations as well as partnerships across the university and between UW and the private sector.
"Interdisciplinary work being done by people across the university and beyond is truly wide-ranging, impactful and interesting," says Chad Baldwin, associate vice president for marketing and communications. "While the magazine stories are only a sampling of how silos have been surmounted to help fulfill UW's mission, we're confident that readers will get a strong sense of this movement by reading this particular issue."
In this issue of UWyo Magazine, readers will find features on the following topics, among others:
-- UW's partnership with several entities to help roll out COVID-19 vaccines.
-- The Wallop Civic Engagement Program K-12 Curriculum Project, which brings expertise in a variety of areas into classrooms across the state.
-- How the Department of Anthropology gives students hands-on experience while serving the nation by partnering with the military and law enforcement.
-- Two exciting interdisciplinary programs from the Haub School of Environment and Natural Resources.
-- UW's partnership with Shanghai University of Sport, which benefits students from both institutions.
-- New offerings in geospatial science from the Wyoming Geographic Information Science Center that will prepare students for work in a variety of fields.
-- A partnership between the UW Art Museum and the College of Law regarding the theft and repatriation of cultural artifacts.
-- How College of Engineering and Applied Science students partnered with 9H Energy on a solar installation near Laramie.
"The breadth of interdisciplinary work and private-sector partnerships going on at UW is impressive, and this issue highlights just a few of these vast efforts," says Micaela Myers, UWyo Magazine managing editor.
To read the fall issue online, go to www.uwyo.edu/uwyo.
Contact Us
Institutional Communications
Bureau of Mines Building, Room 137
Laramie
Laramie, WY 82071
Phone: (307) 766-2929
Email: cbaldwin@uwyo.edu