Contact Us
Institutional Communications
Bureau of Mines Building, Room 137
Laramie
Laramie, WY 82071
Phone: (307) 766-2929
Email: cbaldwin@uwyo.edu
Professor Tracey Owens Patton to Give President's Speaker Series Lecture Oct. 15 at UW
October 4, 2021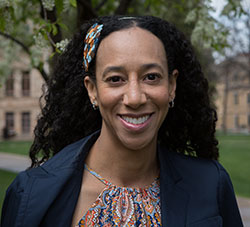 Tracey Owens Patton
University of Wyoming Professor Tracey Owens Patton will give the fall semester President's Speaker Series talk Friday, Oct. 15.
Owens Patton, a professor in the Department of Communication and Journalism, will discuss "The Transnationalism of Jim Crow: Institutionalizing Anti-Blackness in Germany During and After WWII" in her free public talk at 4:10 p.m. in the Wyoming Union Yellowstone Ballroom. Owens Patton also is an adjunct faculty member in African American and Diaspora Studies in the School of Culture, Gender and Social Justice.
The presentation also will be available via UW's WyoCast system by going here. A reception will follow her talk in the center ballroom.
The President's Speaker Series encourages and honors individual faculty members who have successfully balanced the research, educational and service goals of the university. The series calls attention to individuals who have made important, well-rounded contributions to the university's standing.
In her discussion, Owens Patton will touch upon the sense that World War II represented a seminal moment in racial thought and that the realization of the Holocaust was transformative in the role of race-thinking by state agencies and popular institutions, particularly in the U.S.
Owens Patton's research into the topic challenges this assumption, particularly since Black American soldiers went back to a country that held steadfastly to Jim Crow, which included anti-miscegenation laws. Separating race and racism in Germany and in the United States becomes impossible to untangle because "they are braided together," Owens Patton says.
Moving through time from colonialism, World War I and World War II, her presentation focuses on issues of race, racism, propaganda and, ultimately, how importing Jim Crow democracy into post-World War II Germany became a cross-cultural affair that ultimately contributed to anti-Blackness in that country.
A committee, composed of the President's Speaker Series' previous honorees, nominates candidates. The selected faculty member is asked to prepare a public presentation on a topic of national interest. The criteria for selection include a long-term national recognition for research or creative activity and the ability to communicate with all members of the university community.
For more information, call the UW Office of Research and Economic Development at (307) 766-5353.
Contact Us
Institutional Communications
Bureau of Mines Building, Room 137
Laramie
Laramie, WY 82071
Phone: (307) 766-2929
Email: cbaldwin@uwyo.edu