Contact Us
Institutional Communications
Bureau of Mines Building, Room 137
Laramie
Laramie, WY 82071
Phone: (307) 766-2929
Email: cbaldwin@uwyo.edu
Shelby Kennedy Named UW Staff Employee of Third Quarter
November 1, 2021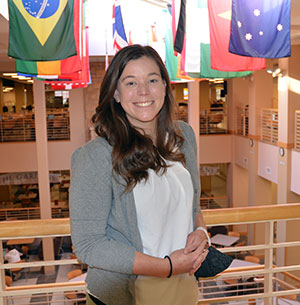 Shelby Kennedy
A coordinator and resident "rock star" in the University of Wyoming's Service, Leadership and Community Engagement (SLCE) office has been named the Staff Employee of the Third Quarter.
Despite a difficult past two years because of COVID-19, Shelby Kennedy, a senior project coordinator, has consistently shown up for her colleagues and UW students in a multitude of impactful ways. SLCE aims to promote leadership, learning and service in students on a campus, community and global scale. Through her position, Kennedy coordinates a number of service-oriented projects, including Service Saturday, The Big Event, Volunteer Hub and The Good Mule Project.
Colleagues have relied on Kennedy's leadership, assistance and expertise in a variety of contexts since she joined SLCE in 2018.
"I don't think she does a single thing without thoughtful consideration of all of those around her," a colleague says. "She is constantly challenging the process to find creative ways to approach work, not simply to make things simple or easy, but to ensure that all we do aligns directly with our values and our mission."
According to Kennedy, the mission of her office involves growing students into active citizens who can contribute to their communities -- whether in Wyoming or elsewhere -- as they move on to new adventures.
The community engagement opportunities facilitated by SLCE help connect both the university and students to the broader Laramie community.
"The best part of this job is working alongside students who are realizing their ability to make change and build community," Kennedy says. "Doing this work requires patience and vulnerability, and I am consistently in awe of the courageous students who use their influence to improve our communities."
Over the span of the pandemic, Kennedy has coordinated several food drives in the community. With the help of students engaged in volunteerism, about 5,600 pounds of food and hygiene items were collected, according to another nominator.
"Beyond just increasing the number of student programming offerings, Shelby created meaningful and impactful programs, not just for students, but for the community as well," the colleague says.
A frequent description of Kennedy in her nominations was that of "rock star," referring to a co-worker who can always be counted on and is willing to help anyone in need.
"The things she has done this semester would be classified as above and beyond in normal times, but the fact that she did all of this in the midst of COVID is absolutely incredible," one nominator says.
Kennedy grew up in Chino, Calif. After obtaining a bachelor's degree in sociology from Whitworth University in Spokane, Wash., she went on to complete a Master of Education in higher education counseling at Wichita State University before joining UW.
"It is an honor to work alongside a group of students and staff colleagues who are dedicated to student development and engagement," Kennedy says. "UW students are thoughtfully paving the way for our communities, towns and state to be successful into the future."
An Employee of the Quarter nominee can be any UW staff employee, and each must receive three nomination forms from three separate individuals. Nominations must be submitted to the Staff Senate office. The forms are on the web and can be found here.
For more information, call the Staff Senate office at 766-5300.
Contact Us
Institutional Communications
Bureau of Mines Building, Room 137
Laramie
Laramie, WY 82071
Phone: (307) 766-2929
Email: cbaldwin@uwyo.edu