Contact Us
Institutional Communications
Bureau of Mines Building, Room 137
Laramie
Laramie, WY 82071
Phone: (307) 766-2929
Email: cbaldwin@uwyo.edu
UW Symphony Orchestra 'Salute the Heroes' Nov. 18
November 16, 2021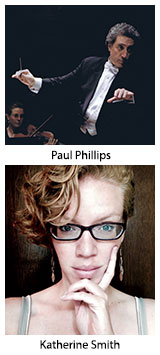 The University of Wyoming Symphony Orchestra will present "Salute the Heroes," a performance that recognizes music and heroism, at 7:30 p.m. Thursday, Nov. 18, in the Buchanan Center for the Performing Arts concert hall. 
Tickets are $12 for the public; $8 for senior citizens; $6 for students not attending UW; and free to UW students with a "W" number. To purchase tickets, visit the Performing Arts box office, call (307) 766-6666 or go online at www.uwyo.edu/finearts. The concert also will livestream at https://youtu.be/Wxs61TWzTOk.
The performance is inspired by the balcony cheers and celebrations for hospital workers at shift changes last year. UW Symphony Conductor Michael Griffith, a UW Department of Music professor, selected works that praise and celebrate heroism.
The concert features inspirational music from Valerie Coleman's "Seven O'Clock Shout"; Paul Phillips' "Wave"; Brahms' First Symphony; and Mozart's Third Horn Concerto, featuring horn soloist Katherine Smith, a UW Department of Music lecturer.
"The Third Horn Concerto by Mozart is beautiful and fun, though not heroic in character. But, soloist Katherine Smith is," Griffith says. "She also is principal horn of the orchestra in Casper. A major international soloist canceled at the last minute, and Katherine stepped in with a Mozart concerto of her own and saved the concert."
Guest conductor Phillips -- the Gretchen B. Kimball director of orchestral studies and associate professor of music at Stanford University, where he conducts the Stanford Symphony Orchestra and Stanford Philharmonia -- will lead the concert.
Phillips has conducted more than 75 orchestras, opera companies, choirs and ballet troupes worldwide, including the San Francisco Symphony, Dallas Symphony, Netherlands Radio Chamber Orchestra and Chamber Choir, and Paul Taylor Dance Company. He has led recordings with the RTÉ National Symphony Orchestra of Ireland, the Slovak Philharmonic Orchestra and the Iceland Symphony Orchestra.
Phillips studied conducting with Leonard Bernstein and has performed with Itzhak Perlman, Dizzy Gillespie, Dave Brubeck and many other classical, jazz and pop stars. He also is an acclaimed composer, pianist and scholar.
For more information, visit www.paulsphillips.com.
For more detailed information about the concert lineup and music, go to the UW Department of Music's "Upcoming Performances" webpage and locate the "UW Symphony: Salute the Heroes" concert.
For more information, email Griffith at symph@uwyo.edu.
Contact Us
Institutional Communications
Bureau of Mines Building, Room 137
Laramie
Laramie, WY 82071
Phone: (307) 766-2929
Email: cbaldwin@uwyo.edu