Contact Us
Institutional Communications
Bureau of Mines Building, Room 137
Laramie
Laramie, WY 82071
Phone: (307) 766-2929
Email: cbaldwin@uwyo.edu
Former First Lady to Receive UW Honorary Degree
December 1, 2021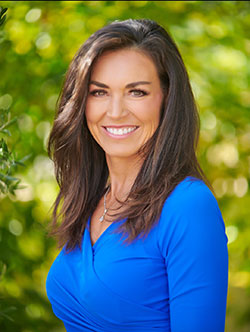 Carol Mead
The University of Wyoming will confer its highest award, the honorary doctoral degree, upon former Wyoming first lady Carol Mead during UW's winter commencement ceremony Saturday, Dec. 11.
She will receive the Doctor of Humane Letters degree.
UW alumni, current or former trustees and faculty members are eligible to nominate individuals for honorary degrees who embody the university's high ideals; exemplify the values of excellence, service and integrity; and possess distinguished accomplishments in their professions, public service or service to humanity. Submissions are referred to a joint committee of trustees and faculty members, which forwards recommendations to the full Board of Trustees for approval.
Mead served two terms as first lady from 2011 to 2019, when her husband of 29 years, Matt Mead, was Wyoming's governor. During that time, she spearheaded work to elevate the cause of literacy for children and adults, helping fund and establish the Literacy Research Center and Clinic (LRCC) at UW.
"My work with the Literacy Research Center and Clinic and the College of Education was a highlight of my time as first lady of Wyoming," Mead says. "I am immensely humbled and honored to receive such an award from a university that has meant so much to me and my entire family."
"Carol represents the very best the state of Wyoming has to offer as a lifetime engaged citizen, exemplary public servant, generous benefactor of time, talents and financial means, and loyal UW alumna," wrote former College of Education Dean Ray Reutzel and former Interim Dean Leslie Rush. "Carol's lifetime of service is reflected in the quantity and quality of her outstanding contributions to the lives of the people of Wyoming, ranging from school-aged students and youth to past governors, trustees, civic organizations and Wyoming legislators."
Mead has given of her time and talents to UW as the founding co-chair of the LRCC's Outreach Board, as well as serving as a member of the Governing Board of the UW Trustees Education Initiative. She hosted scores of literacy forums across Wyoming in local communities and served on the Governor's Council on Physical Fitness, Wyoming Family Day, Wyoming Reads and others. The annual statewide literacy leadership award was named in her honor, the Carol Mead Literacy Leaders Award.
"Her strong urge to do what she could -- leveraging her platform; lending her experience, time and energy; and caring deeply and genuinely about Wyoming's young people -- has caused a notable shift in the direction of early childhood literacy in the state," wrote state Sen. Affie Ellis, R-Cheyenne, who served on the LRCC Advisory Board with Mead. "Carol has created long-lasting and tangible opportunity for low-income families and children. Her belief that all children -- from infants to college freshmen and from all kinds of home life experiences -- should be given the chance to succeed has left its mark on Wyoming."
Mead has served on the Cheyenne Regional Medical Center Foundation Board, as a court-appointed special advocate and as Governor's Residence Foundation Board chair. As first lady, she led several statewide projects such as Eat, Read, Grow, which provides financially disadvantaged families with hot meals and books for children and parents to read together. She also wrote and published two children's books: "Wyoming Firsts" and "Blazing Wyoming Bonnets." She served as a spokesperson and advocate for the Wyoming Talk Early and Often campaign and created the First Lady's Young Artist Showcase to encourage youth in artistic endeavors.
Mead also led a charity team of marathon runners at the New York Marathon to raise money to create an endowment at UW aimed at the prevention of underage drinking. She has been part of trade mission visits to Peru, Australia, China, South Korea, Taiwan, India, Japan, Canada and the United Kingdom, as well as visiting Wyoming troops stationed in Bahrain, Cuba, Kosovo and Germany.
"Through her time, devotion and contributions, she helped make our great state of Wyoming a better place to live, work and raise a family," wrote U.S. Sen. John Barrasso, R-Wyo. "Carol exemplifies the important Wyoming values of hard work, generosity and compassion."
She graduated from UW in 1988 with a Bachelor of Science in biology and a Bachelor of Science in kinesiology-cardiac rehabilitation. She has worked as a cardiovascular technician, pharmaceutical sales representative, real estate agent, and principal and managing partner of Mead Land and Livestock LLC and X Diamond Development LLC.
Contact Us
Institutional Communications
Bureau of Mines Building, Room 137
Laramie
Laramie, WY 82071
Phone: (307) 766-2929
Email: cbaldwin@uwyo.edu