Contact Us
Institutional Communications
Bureau of Mines Building, Room 137
Laramie
Laramie, WY 82071
Phone: (307) 766-2929
Email: cbaldwin@uwyo.edu
Orrin Koenig Receives UW Libraries Outstanding Staff Award
May 23, 2022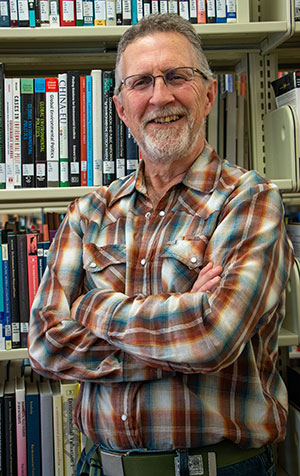 Orrin Koenig
Orrin Koenig, a senior library assistant, is the recipient of the University of Wyoming Libraries Outstanding Staff Award for his contributions in 2021.
The Outstanding Staff Award, funded by the McMurry-Spieles Excellence Fund, honors a UW Libraries staff member who has "demonstrated exceptional service to UW Libraries and made significant contributions to the university and/or the community." Recipients of this award are chosen by a committee of their peers.
Koenig has worked in UW Libraries' User Services since 2019. His job duties include overseeing delivery distributions; filling in at the Circulation Help Desk; assembling and disassembling shelving and furniture; and solving miscellaneous problems as they arise.
During the height of the pandemic, Koenig joined several employees from User Services who helped digitize course content for faculty and students. He also was instrumental in ensuring UW Libraries' furniture allowed for social distancing and followed university COVID-19 protocols. Additionally, Koenig and his wife, Mary, sewed masks for UW Libraries employees.
"On several occasions, I've leaned on Orrin to help me with special projects -- from gluing and mounting posterboards to putting up displays and making sure they were secured, level and presentable," wrote Jennifer Kirk, UW Libraries marketing and communications specialist, in her nomination letter. "He always goes above and beyond when supporting my work, and he's a valued team member of UW Libraries."
Colleagues say Koenig is a jack-of-all-trades and a joy to have around. He is constantly on the move -- making van runs to the various library branches on campus and picking up book and art donations in town.
"He always does his job with a great positive energy and has a greeting and a smile for everyone," Gayle Amundson, a senior office associate in UW Libraries, wrote in her nomination letter.
Contact Us
Institutional Communications
Bureau of Mines Building, Room 137
Laramie
Laramie, WY 82071
Phone: (307) 766-2929
Email: cbaldwin@uwyo.edu