Contact Us
Institutional Communications
Bureau of Mines Building, Room 137
Laramie
Laramie, WY 82071
Phone: (307) 766-2929
Email: cbaldwin@uwyo.edu
Tabatha Spencer Selected as UW Staff Employee of Second Quarter
August 22, 2022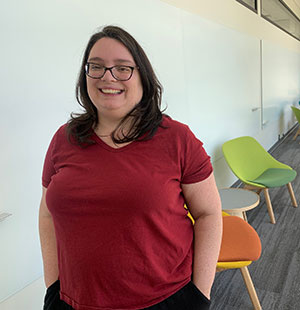 Tabatha Spencer
Tabatha Spencer is known for her professionalism and her acute awareness for detail in all tasks assigned in her everyday duties at the University of Wyoming.
She began her UW career as an office associate in the UW College of Arts and Sciences dean's office eight years ago, but transferred to the Science Initiative and became the initiative's first employee within a year. She is now the executive business manager for the Science Initiative that is within the UW Office of Research and Economic Development.
Doing that demanding work -- transitioning from one level of responsibilities to a newly created position with evolving duties -- has earned Spencer the Staff Employee of the Second Quarter honor. Spencer's co-workers agree that her dedication to her job and the ability to manage every detail do not go unnoticed.
"She has been instrumental in the success of our department. We lost an office associate last semester, leaving Tabatha with a lot more work than her job description asks," a colleague says. "She took on the challenge with grace, no complaining, and made sure to ask for support when needed. She does nothing but support her fellow colleagues at UW."
Spencer became the point person for the purchase of approximately $4.5 million of new, highly advanced, scientific instruments for the new Science Initiative Building that opened this semester. She coordinated among multiple faculty and staff members from many departments on the project.
"She also helped to administer and secure funding for programs that have impacted more than 30,000 UW students, community college students, Wyoming K-12 students, in-state community members, and faculty from UW and all of the community colleges across Wyoming," another colleague says. "So, yes, I would say her reach impacts the entire state."
Today, Spencer is responsible for managing the Science Initiative's business operations, while supervising the department's other classified staff. She has written budgets for proposals that have been successfully funded by the state Legislature.
"I have been working lately on settling our department into the new Science Initiative Building and purchasing major instrumentation for the new core research facility," she says. "The new building is more than eight years in the making. It's been really exciting to see the hard work of so many come to fruition."
A colleague says Spencer's work with complex projects that involve many stakeholders across campus and the state involves large budgets.
"She always is very prompt in getting things done and extremely communicative," the nominator says.   "I have never seen anyone question whether the work was going to get done or if it was going to get done excellently."
Spencer also works with program directors to manage the everyday logistics of the major Science Initiative programs, including the undergraduate Wyoming Research Scholars Program (WRSP); the Learning Actively Mentoring Program for educators; and the Science Initiative Outreach Roadshow, a statewide STEM (science, technology, engineering and mathematics) outreach and inreach program.
The WRSP -- which typically serves 50-60 undergraduate researchers at a time and provides awards for salary, travel and expenses -- is the program where she has more hands-on experience.
"WRSP Director Dr. Jamie Crait and I have been running this program together since its pilot year in 2015, when we started out with just four students," Spencer says. "As a former undergraduate and graduate student researcher myself, I enjoy being able to help students learn how to plan, budget and manage research grants on a small scale before ramping up later in their careers."
Spencer says the best part of her job is working with the "truly wonderful Science Initiative team."
"I get to work every day with the most thoughtful educators and with a truly collaborative team who really value every team member's contributions. I am very proud of all that we have accomplished together, and I am very appreciative that my colleagues have nominated me for this award," she adds. "Managing the logistics of a department is not a solo job by any means, and I also am extremely thankful for the staff members in the many academic, administrative and support units across campus who answer questions and troubleshoot problems in their areas of expertise every day and keep this whole ship afloat."
An Employee of the Quarter nominee can be any UW staff employee, and each must receive three nomination forms from three separate individuals. Nominations must be submitted to the Staff Senate office. The forms are on the web and can be found here.
For more information, call the Staff Senate office at 766-5300.
Contact Us
Institutional Communications
Bureau of Mines Building, Room 137
Laramie
Laramie, WY 82071
Phone: (307) 766-2929
Email: cbaldwin@uwyo.edu