Contact Us
Institutional Communications
Bureau of Mines Building, Room 137
Laramie
Laramie, WY 82071
Phone: (307) 766-2929
Email: cbaldwin@uwyo.edu
UW Professor Publishes Book on Isotopic Constraints on Earth System Processes
August 4, 2022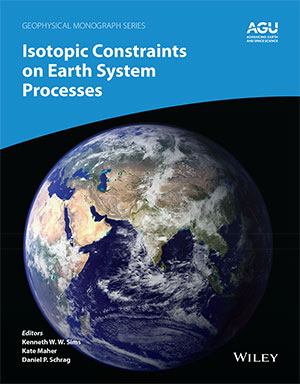 University of Wyoming geology Professor and National Geographic Explorer Ken Sims has published a new book on the application of isotopes to understanding earth system processes.
"Isotopic Constraints on Earth System Processes" presents 13 chapters exemplifying the application of numerous isotope systems to address a wide range of topical problems in earth system science. The book is available at https://agupubs.onlinelibrary.wiley.com/doi/book/10.1002/9781119595007.
"The exploration of geologic processes using small and often barely measurable variations in the abundance of certain isotopes has been central to unraveling the dynamic processes and interconnected systems that shape our planet," Sims says. "Through careful measurements and a quantitative interpretation of isotopic abundances and their natural variations in earth materials, isotope geochemists have established the absolute age of Earth; the time scales of differentiation and remixing that have formed our chemically and mechanically segregated planet; the ages of the continents; the evolution of our planet's climate; the rates of mass transfer between key reservoirs; and even a better understanding of the nexus between geology and life."
In this volume, Sims and colleagues Dan Schrag, of Harvard University, and Kate Maher, of Stanford University, have compiled a collection of papers ranging from large-scale geologic processes to small-scale metabolic processes.
Two of these papers were produced by UW's Wyoming High Precision Isotope Laboratory, a world-class facility that hosts, among other instruments, a multicollector inductively coupled plasma mass spectrometer that can precisely and accurately measure isotopic abundance of almost every element in the periodic table. Numerous academic guests from across both the U.S. and the globe come to Wyoming to use the facility. 
"These insights into the origins and workings of our Earth are truly profound and, even still, the potential of using isotopes to further elucidate our understanding of earth and life science continues to grow," Sims says. "A few decades ago, only a handful of isotope systems were routinely analyzed. Today, the application of newly available isotope systems is leading to new ideas, new models, new experiments and a deeper understanding of earth system science."
Contact Us
Institutional Communications
Bureau of Mines Building, Room 137
Laramie
Laramie, WY 82071
Phone: (307) 766-2929
Email: cbaldwin@uwyo.edu