Contact Us
Institutional Communications
Bureau of Mines Building, Room 137
Laramie
Laramie, WY 82071
Phone: (307) 766-2929
Email: cbaldwin@uwyo.edu
Wright Named Carrell Family Dean of UW College of Engineering and Physical Sciences
August 26, 2022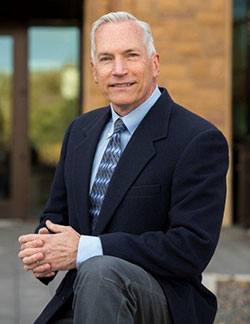 Cameron Wright
Cameron Wright, who has served as acting dean since 2019, has been appointed as the Carrell Family Dean of the University of Wyoming's College of Engineering and Physical Sciences.
The action was approved earlier this month by the UW Board of Trustees.
"Dean Wright is a proven, strong leader for this important academic college, and we're delighted that the trustees agreed to remove the 'acting' label from his title," Provost and Executive Vice President Kevin Carman says. "He has been a significant, positive force in the expansion and reorganization of the college to this point, and we're confident he will continue to fill that role in bringing the process to completion in pursuit of the full vision of UW's Tier-1 Engineering Initiative. That process will be strengthened through synergisms with the physical sciences and mathematics."
The College of Engineering and Physical Sciences -- formerly the College of Engineering and Applied Science -- was renamed to more accurately reflect the outcome of UW's academic restructuring. Generally, it involves reorganizing the College of Arts and Sciences and the former colleges of Agriculture and Natural Resources, and Engineering and Applied Science to better align the life and physical sciences and the humanities, social sciences and arts. This involves the movement of several academic departments -- some that already have taken place and others that will be completed over the next year.
The Carrell Family Deanship was established last year through a $5 million gift from alumnus Lawrence "Larry" Carrell. It's the second named deanship in the university's history and aims to foster excellence and address the critical needs and priorities of the college.
"I appreciate the support and confidence of the administration and the Board of Trustees," says Wright, a professor of electrical and computer engineering. "We are on a very positive trajectory to continue and build upon our efforts to provide a superlative education for our students; engage in meaningful research; and perform service to our state, our country and our professions."
Wright's areas of expertise are image processing, signal processing, biomedical instrumentation, real-time embedded computer systems, and wireless and satellite communications. He is director of the Wyoming Information, Signal Processing and Robotics Laboratory.
In addition to his exceptional research record, Wright has been the recipient of numerous awards for excellence in teaching. He is a senior member of the Institute of Electrical and Electronics Engineers and a member of the American Society for Engineering Education; National Society of Professional Engineers; International Society for Optical Engineering; Biomedical Engineering Society; and Rocky Mountain Bioengineering Symposium Board of Directors.
Wright holds a Ph.D. in electrical engineering from the University of Texas-Austin, an M.S. in electrical engineering from Purdue University and a B.S. in electrical engineering from Louisiana Tech University. He served for 30 years in the U.S. military, enlisting in the Navy at the age of 17 and retiring as a lieutenant colonel from the Air Force in 2003.
Contact Us
Institutional Communications
Bureau of Mines Building, Room 137
Laramie
Laramie, WY 82071
Phone: (307) 766-2929
Email: cbaldwin@uwyo.edu