Contact Us
Institutional Communications
Bureau of Mines Building, Room 137
Laramie
Laramie, WY 82071
Phone: (307) 766-2929
Email: cbaldwin@uwyo.edu
UW Oboist Jennifer Stucki to Perform Sept. 25
September 16, 2022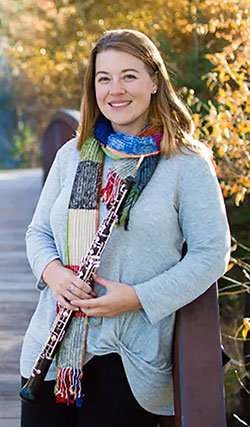 Jennifer Stucki
Oboist Jennifer Stucki will perform Sunday, Sept. 25, as part of the University of Wyoming Department of Music's Faculty Recital Series.
Stucki, an oboe instructor at UW, will perform a diverse collection of works by all-female composers on both the oboe and English horn. Her performance will take place at 3 p.m. in the Buchanan Center for the Performing Arts recital hall. The recital is free and open to the public.
Stucki maintains a diverse career that includes performing solo, orchestra and chamber ensemble work; organizing various collaborative arts projects; and teaching.
A recent migrant from Chicago to Denver, she performed as principal oboist with the Skokie Valley Symphony Orchestra; second oboe and English horn with the Racine Symphony Orchestra; and was a member of the Sapphire Woodwind Quintet. Additionally, she has performed with the Chicago Shakespeare Theater pit orchestra, the Wisconsin Chamber Orchestra, the Dubuque Symphony Orchestra and the Civic Orchestra of Chicago. From 2005-09, she was principal oboist for the U.S. Navy Band and part of the Fair Winds Woodwind Quintet.
She was acting principal oboist with the Cheyenne Symphony Orchestra for the 2019-2020 season, and she has performed with the Boulder Philharmonic, the Boulder Chamber Orchestra and the Fort Collins Symphony. She is the oboist with the Colorado-based woodwind quintet WW5.
Stucki has taught privately for over 10 years and has held previous teaching appointments with Colorado Christian University and Elmhurst College in Illinois. Her students have been accepted into Oberlin Conservatory of Music, the Curtis Institute of Music, the Eastman School of Music and Northwestern School of Music.
For more information, call Kathy Kirkaldie, UW Fine Arts coordinator, at (307) 766-2160 or email kirisk@uwyo.edu.
Contact Us
Institutional Communications
Bureau of Mines Building, Room 137
Laramie
Laramie, WY 82071
Phone: (307) 766-2929
Email: cbaldwin@uwyo.edu