Contact Us
Institutional Communications
Bureau of Mines Building, Room 137
Laramie
Laramie, WY 82071
Phone: (307) 766-2929
Email: cbaldwin@uwyo.edu
UW Research Scientist Aids Hurricane Response in Dominican Republic
October 19, 2022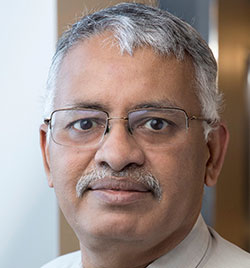 Ramesh Sivanpillai
After Hurricane Fiona rocked the Dominican Republic last month, Ramesh Sivanpillai received the call.
On Sept. 20, the University of Wyoming senior research scientist in the Wyoming Geographic Information Science Center (WyGISC) was tapped by the International Charter Space and Major Disasters to be the project manager for its hurricane response efforts. The U.S. Geological Survey (USGS) initiated the response and nominated Sivanpillai as the project manager.
Hurricane Fiona unleashed heavy rains in the Dominican Republic, which resulted in extreme flooding. More than 12,400 people were displaced; two communities were cut off due to the hurricane; and at least one death was reported due to a falling tree. Additionally, authorities closed ports, beaches and at least four international airports, according to various news reports.
"The International Charter allowed experts from various continents to come together for collecting, processing and delivering time-sensitive satellite data and products," says Sivanpillai, who conducted his work from the Laramie campus. "As the frequency of these disasters continues to increase, data and products provided by the International Charter will be crucial for response and recovery activities. It is very difficult for a country to set up the infrastructure and launch a sufficient number of satellites to replicate what can be accomplished through this international partnership." 
As project manager, Sivanpillai's job was to evaluate the quality of the satellite images and oversee data collection and map production before sending the information to the end users and agencies in the Dominican Republic.
"We received satellite images from many space agencies. We acquired and analyzed satellite -- pre- and post-flood -- images for identifying flooded areas and, in some cases, damages to infrastructure and buildings," he says. "It was really encouraging to see the cooperation from so many countries to help out the Dominican Republic during this tough time."  
Sivanpillai says he received emails from the end user in the Dominican Republic's National Emergency Commission saying that maps provided were "very useful for their planning and damage assessment activities." The user also requested maps and products in Spanish so that response crews could disseminate and use the information widely.
"One of the challenges, while working in tropical regions, is the presence of clouds. This means many of the images we collect might not contain useful information," Sivanpillai says. "However, radar images can penetrate the clouds and collect information about inundated areas. He (the user) requested more data and products from the radar satellites. Unfortunately, we have relatively fewer satellites that collect radar data in comparison to those that collect data in other regions of the electromagnetic spectrum."
The Emergency Commission wrote to Sivanpillai that the cloud-free portions of images were extremely useful for damage assessment of structures and buildings.
Charter Origins
The International Charter Space and Major Disasters, formed in 1999 by the United Nations, consists of members from 17 charter countries and has responded to disasters in 154 countries, providing free satellite data from 270 contributing satellites for the impacted regions. To date, there have been 786 activations.
The organization is a worldwide collaboration, through which satellite data are made available for the benefit of disaster management. By combining Earth observation assets from different space agencies, the charter allows resources and expertise to be coordinated for rapid response to major disaster situations, thereby helping civil protection authorities and the international humanitarian community.
This unique initiative is able to mobilize agencies around the world and benefit from their know-how and their satellites through a single access point that operates 24 hours a day, seven days a week and at no cost to the user.
Sivanpillai says he likely received the call to lead because he has experience working on major disasters. In 2011, he was tapped by the charter to assist with major flooding along the Mississippi River that started in Illinois, an event that lasted roughly five months. Two years before that, Sivanpillai was selected by the USGS for project manager training in Denver. While a student at Texas A&M University in 1999, he volunteered to help with relief efforts in Nicaragua.
In 2018, Sivanpillai was again called by the charter to serve as a project manager for the Camp Fire that engulfed the town of Paradise, a community located in northern California.
"Hurricane Fiona in the Dominican Republic is my third activation, and the first one outside the U.S.," he says of his active assignment that lasted through Oct. 9. Sivanpillai says he has two and a half weeks to submit his final report.
Since this activation in late September, the charter has been activated for providing data and products about Hurricane Fiona to Canada and the Turks and Caicos Islands; Typhoon Noru to the Philippines, Laos and Thailand; and flooding in Venezuela, Sivanpillai says.
For more about the charter activation response to Hurricane Fiona in the Dominican Republic, go here. For a list of countries involved and charter members, go here.
Contact Us
Institutional Communications
Bureau of Mines Building, Room 137
Laramie
Laramie, WY 82071
Phone: (307) 766-2929
Email: cbaldwin@uwyo.edu