Contact Us
Institutional Communications
Bureau of Mines Building, Room 137
Laramie
Laramie, WY 82071
Phone: (307) 766-2929
Email: cbaldwin@uwyo.edu
UW College of Business Gains Professor of Entrepreneurship
November 7, 2022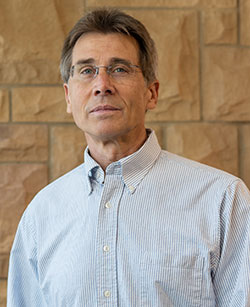 Jeffrey Covin
The University of Wyoming's College of Business has welcomed world-renowned scholar Jeffrey Covin as the newest faculty member in its Entrepreneurship Program.
Covin is an award-winning scholar in the fields of entrepreneurship, strategic management and technology management, with articles published in numerous journals. They include the Strategic Management Journal; Journal of Management; Strategic Entrepreneurship Journal; Journal of Business Venturing; Entrepreneurship Theory and Practice (ET&P); Journal of Management Studies; Journal of Business Ethics; Journal of Operations Management; Sloan Management Review; Journal of Business Research; Small Business Economics; and Journal of Product Innovation Management.
"The College of Business is excited to welcome Jeff Covin, who is one of the world's leading experts in management strategy," says Mark Peterson, interim chair of UW's Department of Management and Marketing. "Jeff will complement the work of consumer trends expert Linda Price and entrepreneurship scholar Patrick Kreiser, who have joined the department in recent years. We look forward to rich exchanges with practitioners in the region now about marketplace phenomena and how to position Wyoming businesses most favorably in the future."
"I'm excited and grateful to join a great team of faculty and staff here at the University of Wyoming," Covin says. "I look forward to working with my colleagues in further developing and then implementing the vision for how entrepreneurship-related programs, knowledge and processes can be transformative influences for our students, the university and the state of Wyoming."
Covin earned his Ph.D. from the University of Pittsburgh, his MBA from Indiana University of Pennsylvania and his B.S. from the University of Pittsburgh. Most recently, he served as the Samuel and Pauline Glaubinger Professor of Entrepreneurship and professor of strategic management at the Kelley School of Business at Indiana University-Bloomington. He also served as chair of the Department of Management and Entrepreneurship in the Kelley School of Business.
Covin's research has been recognized nationally with awards that include ET&P's Best Journal Article Award and the U.S. Association for Small Business and Entrepreneurship (USASBE) Best Journal Article in Corporate Entrepreneurship Award. Additionally, he co-wrote a book called "Corporate Entrepreneurship & Innovation."
"We couldn't be happier than to have Jeff Covin become part of the positive momentum that our entrepreneurship programs have created over the past several years," says Kreiser, UW's Rile Endowed Chair of Entrepreneurship and Leadership. "Jeff was part of one of the top entrepreneurship programs in the world at Indiana University, and we know that he will bring specialized knowledge and expertise to help further develop our entrepreneurship programs here at the University of Wyoming.
"More importantly, I have known Jeff for 20 years and, while he is an award-winning teacher and researcher, he is an even better human being," Kreiser adds. "I couldn't think of a better person to help educate the citizens of our great state about entrepreneurial practices as well as to help the local business community thrive."
Covin co-developed Indiana University's Ph.D. in Entrepreneurship Program, which received national acclaim by being named the National Model Ph.D. Program in Entrepreneurship by USASBE. He has been named a 21st Century Entrepreneurship Research Fellow by the National Consortium of Entrepreneurship Centers. In 2005, he received the Academy of Management's Entrepreneurship Mentor Award based on his work in developing Ph.D. students and junior-level faculty in the entrepreneurship field.
Covin has been a recipient of the Kelley School of Business Doctoral Student Association's Teaching Excellence Award and the Exceptional Inspiration and Guidance Award. In 2008, he received the USASBE Award for Outstanding Research in Corporate Entrepreneurship and Strategy.
Before joining the Kelley School of Business, Covin held the Hal and John Smith Chair of Entrepreneurship and Small Business Management at the Georgia Institute of Technology.
"Jeff Covin is one of the world's leading researchers in the field of entrepreneurship," adds College of Business Dean Scott Beaulier. "His long and distinguished career as an internationally renowned researcher and colleague builds on one of our strengths in the College of Business and raises the visibility of our entire college. In addition to being a great researcher, Jeff is a collaborator and makes everyone around him better. We are really fortunate that he has joined us."
Contact Us
Institutional Communications
Bureau of Mines Building, Room 137
Laramie
Laramie, WY 82071
Phone: (307) 766-2929
Email: cbaldwin@uwyo.edu