Contact Us
Institutional Communications
Bureau of Mines Building, Room 137
Laramie
Laramie, WY 82071
Phone: (307) 766-2929
Email: cbaldwin@uwyo.edu
UW School of Pharmacy Faculty Member Honored With ASPL Award
November 17, 2022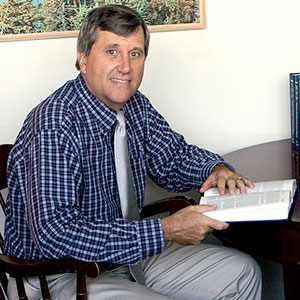 David Brushwood
A faculty member with the University of Wyoming's School of Pharmacy Master of Science in Health Services Administration (MSHSA) program is the recipient of the American Society for Pharmacy Law's (ASPL) Joseph L. Fink III Founders Award.
David Brushwood, founder of the online MSHSA program, was selected for his outstanding service and contributions to the professions of pharmacy and law.
"I am extremely flattered by this award, particularly since it is presented to me by an organization that has been so supportive of me throughout my career," he says.
Brushwood, a pharmacist and attorney who retired from the University of Florida faculty in 2014, now serves as a faculty member with the MSHSA program, focusing on regulatory aspects of opioid use, extemporaneous compounding and patient safety.
"It has been an honor to work with David over the years and now in the MSHSA program," says Elliott Sogol, director of postgraduate education in the UW School of Pharmacy. "His insights and dedication to the program and students are unwaveringly similar to his career over the years in support of pharmacy law education."
During his 40-year career as an educator, speaker and author in pharmacy law, Brushwood has written nearly 200 peer-reviewed manuscripts, books and book chapters; delivered more than 160 regional, national and international professional presentations; and has received more than $600,000 in extramural funding.
Brushwood was honored at the ASPL business meeting earlier this month during the Developments in Pharmacy Law seminar at the Naples Grande Beach Resort in Naples, Fla.
About the College of Health Sciences
UW's College of Health Sciences trains health and wellness professionals and researchers in a wide variety of disciplines, including medicine, nursing, pharmacy, communication disorders, social work, kinesiology, community and public health, and disability studies.
The college also oversees residency and fellowship programs in Casper and Cheyenne, as well as operating primary care and speech/hearing clinics in Laramie, Casper and Cheyenne. With more than 1,600 undergraduate, graduate and professional students, the college is dedicated to training the health and wellness workforce of Wyoming and conducting high-quality research and community engagement, with a particular focus on rural and frontier populations.
Contact Us
Institutional Communications
Bureau of Mines Building, Room 137
Laramie
Laramie, WY 82071
Phone: (307) 766-2929
Email: cbaldwin@uwyo.edu