Contact Us
Institutional Communications
Bureau of Mines Building, Room 137
Laramie
Laramie, WY 82071
Phone: (307) 766-2929
Email: cbaldwin@uwyo.edu
UW's Carman to Represent Wyoming on WICHE Commission
November 14, 2022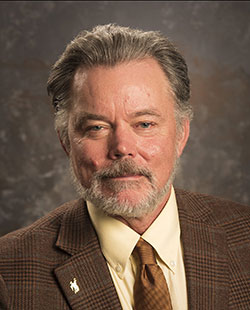 Kevin Carman
Kevin Carman, the University of Wyoming's provost and executive vice president, has been appointed to the Western Interstate Commission for Higher Education (WICHE), representing Wyoming.
As part of the commission, Carman joins WICHE as one of 48 commissioners from the 15 Western states and the U.S. Pacific Territories and Freely Associated States. He was appointed as UW's provost and executive vice president in June 2020, overseeing the university's 10 colleges and schools, graduate studies, information technology, student affairs and UW-Casper. Carman also serves as the university's chief executive officer in the absence of the president.
"Dr. Carman's extensive background in various higher education leadership roles will prove to be a great asset to the commission," WICHE President Demarée Michelau says. "His experience at multiple institutions in the WICHE region brings a unique perspective that will enhance our efforts to improve access to higher education in the West."
Before his positions at UW, Carman served as executive vice president and provost at the University of Nevada-Reno for eight years. Before that, he was on Louisiana State University's (LSU) Department of Biological Sciences faculty for 24 years. In his last nine years at LSU, he served as the dean of the College of Science, housing the Biological Sciences, Chemistry, Computer Science, Geology and Geophysics, Mathematics, and Physics and Astronomy departments, as well as the Museum of Natural Science.
"Supporting students is an important cause to which I am dedicated," Carman says. "I am energized by the work WICHE does to set students up for academic success in the West, and I am honored to represent Wyoming in this capacity."
Carman received his bachelor's degree in biology from McPherson College and his master's and doctoral degrees in biological oceanography from Florida State University. He has conducted research on invertebrate and microbial communities on the sea floor in habitats that range from coastal salt marshes to the deep sea. He has published 65 peer-reviewed scientific articles and is a fellow of the American Association for the Advancement of Science.
About the Western Interstate Commission for Higher Education
Since 1953, WICHE has been strengthening higher education, workforce development and behavioral health throughout the region. From promoting high-quality, affordable postsecondary education to helping states get the most from their technology investments and addressing behavioral health challenges, WICHE improves lives across the West through innovation, cooperation, resource sharing and sound public policy. WICHE members include Alaska, Arizona, California, Colorado, Hawaii, Idaho, Montana, Nevada, New Mexico, North Dakota, Oregon, South Dakota, Utah, Washington, Wyoming and the U.S. Pacific Territories and Freely Associated States.
Contact Us
Institutional Communications
Bureau of Mines Building, Room 137
Laramie
Laramie, WY 82071
Phone: (307) 766-2929
Email: cbaldwin@uwyo.edu