Contact Us
Institutional Communications
Bureau of Mines Building, Room 137
Laramie
Laramie, WY 82071
Phone: (307) 766-2929
Email: cbaldwin@uwyo.edu
UW's Khasilova Receives International Volunteer Award
November 21, 2022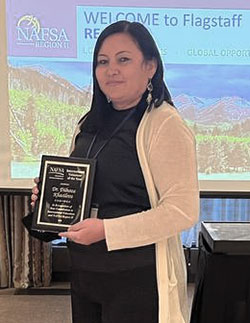 Dilnoza Khasilova
Dilnoza Khasilova, a University of Wyoming Global Engagement Fellow, recently received an international volunteer service award from NAFSA: Association of International Educators.
Khasilova received the award earlier this month at the association's Region II conference in Flagstaff, Ariz.
The International Volunteer of the Year Award is presented annually to a community volunteer whose work with international programs and activities merits special recognition. Recipients may include those whose efforts were responsible for the creation of permanent community or institutional programs, improved community awareness of international cultures or some other equally meritorious contribution to international exchange.
Khasilova, a UW graduate who earned her doctoral degree in literacy studies, received the award for her continued work through UW's World Language and Culture Program (WLCP) that she founded in 2013. The WLCP program is a volunteer and service-learning program that offers free world language and culture sessions to members of the UW community and to those interested throughout the state. This semester, 19 nonformal world language and culture sessions were offered.
The program was launched in 2014 with the help of both UW's local and international communities, including UW's graduate students, faculty, staff and undergraduate exchange students who volunteered to teach their target languages and cultures.
NAFSA promotes the exchange of students and scholars to and from the U.S. The association provides a statement of ethical principles and provides professional education and training that strengthen institutional programs and services related to international educational exchange.
The association is organized into 11 geographic regions. Region II consists of Arizona, Colorado, Kansas, Montana, Nebraska, New Mexico, Utah and Wyoming.
Contact Us
Institutional Communications
Bureau of Mines Building, Room 137
Laramie
Laramie, WY 82071
Phone: (307) 766-2929
Email: cbaldwin@uwyo.edu