Contact Us
Institutional Communications
Bureau of Mines Building, Room 137
Laramie
Laramie, WY 82071
Phone: (307) 766-2929
Email: cbaldwin@uwyo.edu
UW College of Engineering and Physical Sciences Welcomes New Undergraduate Recruiter
December 19, 2022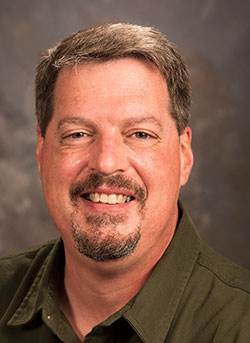 Jody Speight
The University of Wyoming College of Engineering and Physical Sciences recently named Jody Speight as the new undergraduate recruiter in the college's Susan McCormack Center for Student Success.
Speight joins a team whose mission is to help students develop their full potential by engaging them in a culture of success through active involvement in education and career planning. Speight begins his duties effective immediately.
"As the world around us changes more and more rapidly, young people want to be an active part of that change," Speight says. "All of the programs offered in the College of Engineering and Physical Sciences offer tools and opportunities to make positive change happen, and I am excited to be a part of that."
Speight will be responsible for providing leadership in the college's recruiting and retention programs as well as assessing and forecasting the college's long-term educational program needs. Additionally, he will research, investigate, analyze and evaluate alternatives with college- and university-level representatives to develop and implement programs across multiple departments and university programs to produce desired outcomes.
"We're excited to have someone with Jody's experience in education join our team in the College of Engineering and Physical Sciences," says David Mukai, the college's associate dean for undergraduate education. "Jody brings a unique perspective having worked in a variety of higher education roles. His arrival comes at an ideal time as we get ready to find our next class of engineering and physical sciences students, and we're ready to roll up our sleeves to get to work."
Speight grew up in the Pacific Northwest and moved to Wyoming in 2004 with his wife and two sons.
For the past 10 years, Speight's work experience has spanned a variety of online and professional schools in career services -- as both an adviser and a director -- in which the majority of this experience was supporting student educational outcomes.
Speight also has served as an externship coordinator; taught several professional development courses; and served on several retention and scholarship committees.
Speight earned a bachelor's degree in mass communication from the University of Utah.
Contact Us
Institutional Communications
Bureau of Mines Building, Room 137
Laramie
Laramie, WY 82071
Phone: (307) 766-2929
Email: cbaldwin@uwyo.edu