Contact Us
Institutional Communications
Bureau of Mines Building, Room 137
Laramie
Laramie, WY 82071
Phone: (307) 766-2929
Email: cbaldwin@uwyo.edu
UW Extension to Host 39th Annual Fremont County Farm and Ranch Days Feb. 8-9
January 20, 2023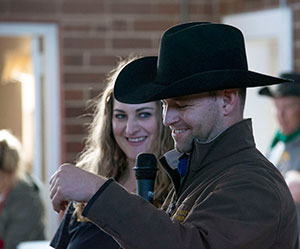 UW Extension educator Chance Marshall presents at a previous Fremont County Farm and Ranch Days event. (UW Photo)
University of Wyoming Extension will offer more than 25 educational sessions at this year's Fremont County Farm and Ranch Days in Riverton Feb. 8-9.
All events are free and open to the public, with no RSVP required. Sessions for both days begin at 9:45 a.m. and conclude at 2 p.m., with free lunch provided by the Wyoming CattleWomen at 1 p.m.
"This is a unique tradition in Fremont County," says Fremont County extension educator Chance Marshall. "People come for the personal interactions, and it's cool to be a part of that, to get farmers and ranchers gathered in one place."
Workshop topics include alfalfa weevil control, predator management, hay marketing strategies, livestock management in extreme temperatures, succession planning and invasive grasses. All presentations will be recorded and uploaded to the UW Extension YouTube page following the event.
Presenters include representatives of the Wyoming Wool Growers Association, Fremont County Weed and Pest District, Wyoming Department of Environmental Quality, Wyoming WYldlife Fund and Fremont County Trappers.
Lance VandenBoogart, a warning coordination meteorologist for the National Weather Service, will provide Wednesday's keynote address. In addition to discussing recent extreme weather events in Fremont County, VandenBoogart will share resources that allow users to access weather conditions and forecast information specific to their farms or ranches.
Thursday's keynote speaker is U.S. Sen. John Barrasso. He will discuss the latest news from Washington, including updates on the new Farm Bill and other legislation relevant to Wyoming residents.
A four-session private pesticide applicator program will be available Thursday. Participants who complete the program are eligible for the issuance or renewal of their Wyoming private pesticide applicator licenses.
"We have something for everyone," Marshall says. "You don't have to be involved in large-scale agriculture to come and learn something."
For more information, email Marshall at cmarsha1@uwyo.edu or call (307) 332-1018.
About University of Wyoming Extension
Since 1914, UW Extension has provided lifelong learning opportunities to Wyoming residents across the state. With roots in agricultural education, UW Extension supports rural communities facing contemporary challenges and changes. UW Extension brings the university's resources to each of the state's 23 counties and the Wind River Indian Reservation. To learn more about UW Extension, visit www.uwyo.edu/uwe or call (307) 766-5124.
Contact Us
Institutional Communications
Bureau of Mines Building, Room 137
Laramie
Laramie, WY 82071
Phone: (307) 766-2929
Email: cbaldwin@uwyo.edu