Contact Us
Institutional Communications
Bureau of Mines Building, Room 137
Laramie
Laramie, WY 82071
Phone: (307) 766-2929
Email: cbaldwin@uwyo.edu
UW Shepard Symposium on Social Justice Switches to Fall Program
March 13, 2023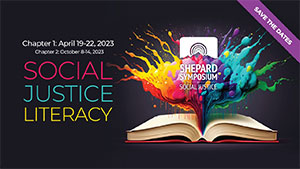 Organizers of the University of Wyoming's Shepard Symposium on Social Justice (SSSJ) are shifting the annual spring symposium to a fall program.
During this transitional year, a smaller-scale spring symposium will lead up to a larger event during the fall semester. The theme is "Social Justice Literacy." The program will be divided into Chapter 1 and Chapter 2 during the current spring semester and next fall, respectively.
The Shepard Symposium has grown from a local grassroots event to an internationally recognized conference. Originally named "The Symposium for the Eradication of Social Inequality," the annual event was renamed to honor the work of the Shepard family and the memory of their son, Matthew Shepard, a UW student who was murdered in 1998.
The SSSJ planning committee invites participants to join in an ongoing discussion about social justice literacy in two parts: Wednesday-Saturday, April 19-22, for Chapter 1 and Sunday-Saturday, Oct. 8-14, for Chapter 2. The fall symposium will be hosted in conjunction with the Matthew Shepard Memorial group's 25th memorial of Shepard's murder.
The "Social Justice Literacy" theme will give communities the skills to shape the environments they live in through narrative, asking the question, "How can we collectively impact the world by empowering silenced voices?"
The committee's goals are to discuss historic forms of resistance, explore illiteracy as a form of oppression and offer awareness of social justice. Topics will provide opportunities to reclaim issues critically and creatively regarding the progression of suppressed stories written for and by marginalized identities.
The symposium will promote social and environmental justice through the transformative power of literacy.
For more information, visit the SSSJ website at www.shepardsymposium.weebly.com or follow on Instagram or Facebook.
Contact Us
Institutional Communications
Bureau of Mines Building, Room 137
Laramie
Laramie, WY 82071
Phone: (307) 766-2929
Email: cbaldwin@uwyo.edu