Living in Laramie
At 7,200 feet nestled between two Rocky Mountain Ranges, the Snowy and Laramie Ranges, on the Laramie plateau, the town offers easy access to a wealth of outdoor activities beneath the famous clear western sky.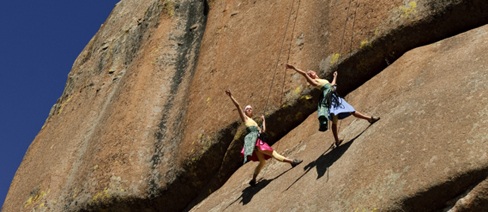 However you do not need to venture outside of the college town of 30,000 to experience the west. The historic downtown Laramie was built beginning in the 1860's next to the railroad which first gave life to the town. These old brick structures have now been converted into everything from chocolate shops to sports bars.
Largely due to the University of Wyoming, Laramie serves as a cultural hub in Wyoming. Visitors can see visiting and permanent exhibits at the UW Art Museum and the Geological Museum is a favorite of adults and children alike.   
 The University of Wyoming also hosts a variety of campus activities including musicians ranging from The Fray to Yo-Yo Ma. Visit Laramie to experience the charm of a Rocky Mountain college town with opportunities surpassing its size!

Students are encouraged to express creative freedom in the Student Union Gardens, a popular lunch location for the UW community.
Downtown Laramie's Farmers' Market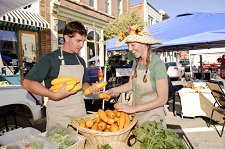 The Farmer's Market is just one of the town events to take place in the downtown.