Electrical and Computer Engineering
College of Engineering and Physical Sciences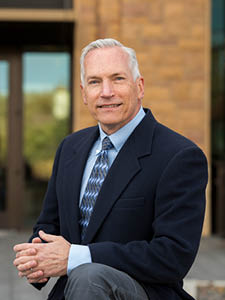 Education:
B.S. Electrical Engineering (summa cum laude), Louisiana Tech University, 1983
M.S. Electrical Engineering, Purdue University, 1988
Ph.D. (Electrical Engineering; also completed doctoral program requirements for the Biomedical Engineering program), University of Texas at Austin, 1996

Licensure and Registration:
Professional Engineer (in EE), California and Wyoming
Federal Communications Commission, Commercial Radio/TV/Radar
Federal Communications Commission, Amateur Radio

Areas of Expertise: Image Processing/Vision, Signal Processing, Biomedical Instrumentation, Real-Time Embedded Computer Systems, Wireless/Satellite Communications

Related Experience:
Faculty, Electrical and Computer Engineering Department, University of Wyoming, 2003-present
Faculty, Electrical Engineering Department, U.S. Air Force Academy, 1991-1993, 1996-2002
Research and Development Engineering Officer, U.S. Air Force, 1983-2002
Covert Intelligence Operations and Analysis, U.S. Navy, 1973-1980

Current research activities are focused in the following areas:
computer/robot vision sensors using biologically-inspired hybrid analog/digital architectures
computer vision algorithms for feature extraction and recognition
real-time digital signal processing and image processing
biomedical sensors and instrumentation

Publications and Presentations: see listing here

Professional Affiliations and Activities:
Institute of Electrical and Electronics Engineers (IEEE, Senior Member), American Society for Engineering Education (ASEE), National Society of Professional Engineers (NSPE), The International Society for Optical Engineering (SPIE), Biomedical Engineering Society (BMES), Rocky Mountain Bioengineering Symposium (RMBS) Board of Directors.
Member and past chairman, IEEE-USA National Committee for Licensure and Registration
Division Director-at-Large, ASEE Computers in Education Division
Program Evaluator (electrical engineering, computer engineering, and biomedical engineering), Accreditation Board for Engineering and Technology (ABET).
Exam writer (P.E.), National Council of Examiners for Engineering and Surveying (NCEES).

Honors and Awards:
Ellbogen Meritorious Classroom Teaching Award (2012)
 University Faculty/Staff Outstanding Veterans Support Award, for efforts to establish, create, and run UW 1600, Veterans Transition Course.  Selected by WY state Veterans Commission (2012)
Tau Beta Pi Outstanding Undergraduate Teaching Award (2011)
President's Award, Rocky Mountain Bioengineering Symposium (2010)
John A. Curtis Lecture Award for best paper/presentation (Computers in Education Division) at the ASEE Annual Conference (1998, 2005, and 2010)
Mortar Board "Top Prof"' award, University of Wyoming (2005 and 2007)
IEEE Student Branch (University of Wyoming): Outstanding Professor of the Year (2005 and 2008)
IEEE ICASSP 2006 paper rated as  "...number one in its category by the reviewers.'' (2006)
IEEE/ABET-EAC award for outstanding service as an ABET Program Evaluator (2007)
Outstanding Teaching Award, American Society for Engineering Education (ASEE) Rocky Mountain Section (2007)
Commendation for Excellence in Technical Communication, for article on fly eye sensor research in March 2006 issue of Laser Focus World (2006)
IEEE ICASSP 2004 paper rated one of  "...the top in its category by the reviewers.'' (2004)
IEEE Third Millennium Medal for leadership and contributions in the IEEE Pikes Peak Section (2000)
IEEE Counselor Award for most improved Student Branch in Region 5 (out of ~ 60 universities) (1997)
Listed in Who's Who in Science and Engineering, Who's Who in America (annually 1996-present)
RMBS K. C. Rock Best Paper Award, Rocky Mountain Bioengineering Symposium (1996)
Brig. Gen. R. E. Thomas Award for outstanding contributions to cadet education at U.S. Air Force Academy (both 1992 and 1993)
Inducted into Honor Societies: Tau Beta Pi (engineering), Eta Kappa Nu (electrical engineering), Phi Kappa Phi (overall scholarship), Omicron Delta Kappa (campus leadership), Pi Mu Epsilon (mathematics)
Eta Kappa Nu Outstanding Electrical Engineering Student Award (1981)