Top 10 Questions to Ask When Touring Campus
September 20, 2018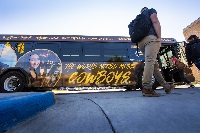 Prepare questions to ask when you are on your campus tour.
Preparing to Visit Campus
By: Sam Stein, School of Energy Resources Student Ambassador
Come to your campus visit prepared with a list of questions you have about the university. This is a great way to see what colleges fit your needs and interests. Below are questions that are frequently asked during tours and questions you should ask during your visit.
Why did you choose to attend this university?
What is the general size of each class?
What activities/clubs are offered for students?
How accessible are professors and tutors for help with homework?
What is there to do outside of class or on weekends?
Where are the best places to study?
How would you describe the community on campus?
What makes the student body unique?
Are there a lot of opportunities to apply for internships and jobs?
Getting to know the campus based on more than just brochures and admission websites is what will help you in making the decision of which college is best for you. These questions are a great start to learning more about the heart of the university, but the most important question is the one you need to ask yourself after every visit…
Can I see myself making friends, walking around campus and enjoying my time here?