How to Choose an Energy Resource Management Concentration
November 30, 2018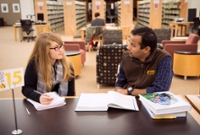 Find the concentration in the Energy Resource Management and Development program that is the best fit for you.
Choosing a Concentration
By Sam Stein, School of Energy Resources Student Ambassador
You're considering attending the University of Wyoming to pursue a bachelor's degree in Energy Resource Management and Development but are undecided on which concentration is a good fit. Selecting the concentration best for you can by tricky, but we are here to help you figure out which one is a good fit and lead you down the path to success.
Understanding Your Options
While every student in the School of Energy Resources receives a bachelors of science in Energy Resource Management and Development, it is important to select one of the two concentrations offered in the program: Professional Land Management or Energy Land and Water. These emphasis areas differ substantially and it is necessary to understand the differences between the two before you declare your concentration. We've created brief descriptions and encourage you to visit our academic program website to discover more.
Professional Land Management
The Professional Land Management concentration is accredited by the American Association of Professional Landmen and prepares students for long-term competitive success in the energy industry.
Landmen play an important role in maintaining sound stewardship of energy resources and apply knowledge in energy, geology, business, law, economics, finance, and regulatory policy.
Energy Land and Water
The Energy Land and Water concentration focuses on the environmental aspects of the energy industry including reclamation and restoration and consideration of environmental impacts of energy development.
Students learn about environmental policies and how to implement environmentally sound energy technologies with consideration of our natural resources.
Finding the Best Fit
The core of both programs are very similar as they are part of the same degree program. However, after the first year, each concentration branch apart from each other and different skills are required. It's important to know what you skills are and to choose the concentration in which you can utilize them effectively. We've provided skill sets that are necessary for each area so you can find your best fit.
-If you are someone who works well with others, like structure and organization, and are considered a "doer," the Professional Land Management concentration will probably suit you best.
-If you are a lover of the sciences, interested in research and analysis, and environmental issues, the Energy Land and Water concentration is for you. Don't be fooled though - you still have to work well with others and communicate with them.
Don't Rush Your Decision
Students in the Energy Resource Management and Development program have the same set of core courses that expose them to basic business, economic, quantitative, and communication skills necessary to move onto the higher-level courses.
These classes create a well-rounded foundation to build upon and can assist in your decision when looking at the concentrations offered. Take your time looking over the curriculums and skill sets of each concentration.
If you are still unsure which one would suit you, request a copy of our viewbook describing your future opportunities.