Wyoming Energy News
December 17, 2018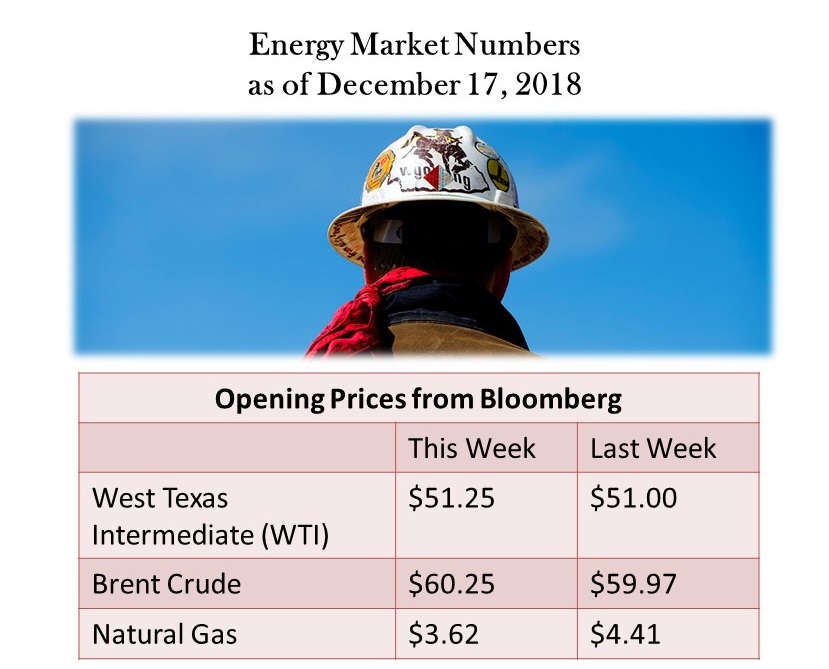 Opening oil prices show a slight increase from last week.
December 17
The School of Energy Resources features information about the energy industry on a weekly basis. Here is a recap of recent stories.
Baker Hughes releases its weekly rig counts.
The Wyoming rig count increased from 30 to 35 rigs over the past week.
Colorado holds steady at 33 rigs with New Mexico decreasing by 5 and North Dakota by 2.
U.S. rig count decreased by 16 with Canada also showing a decrease of 12 rigs.
U.S. count is up 141 rigs from last year's count of 930.
Opening prices from Bloomberg Energy as of December 17.
West Texas Intermediate (WTI) opened at $51.25 up from $51.00 on December 10.
Brent Crude shows a slight increase from $59.97 last week to $60.25.
Natural gas opened at $3.62 down from $4.41 last week.
The Casper Star Tribune reports that the flash gas phenomenon that arose in the Wamsutter field will not require an update to current rules and regulations. The quarterly oil and gas lease sale in December brought in $2,000 for the State of Wyoming.
Wyoming Public Media's story reports the Advanced Carbon Products Innovation Center construction is being delayed due to property issues. They were expected to complete construction in 2019.
Energy Information Administration reports the U.S. was a net exporter of crude oil and petroleum products in November.