SER Welcomes New Academic Advising Manager
April 12, 2021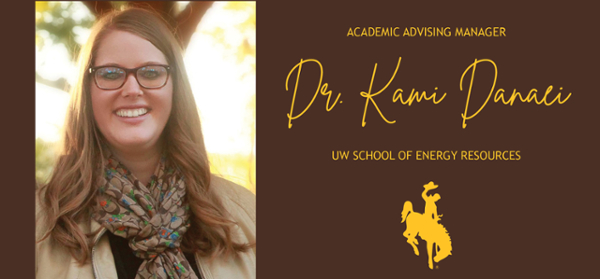 The School of Energy Resources is pleased to announce Dr. Kami Danaei as the new Academic Advising Manager.
In her new position, Dr. Danaei will play a major role in the recruitment of new students to the Energy Resource Management & Development (ERMD) degree, as well as the new Energy Minor launching in Fall 2021. She will help grow and further establish the academic program among the community colleges in the state as well as embed pathways for K-12 students to matriculate. Additionally, she will oversee, advise, and provide career guidance and counseling to students in both concentrations of the program. 
"We are delighted to have Dr. Danaei join the academic team at SER," says Interim Academic Director, Tim Considine. "Kami brings a wealth of knowledge and experience with her and we are eager for her to utilize her skills to enhance our degree program and advance new directives."
A native of Wyoming, Dr. Danaei was immersed in energy culture from a young age. She grew up in Kemmerer where both her parents enjoyed long careers with the Kemmerer coal mine and power plant. As a first-generation college student, she attended Central Wyoming Community College before attending the University of Idaho for a bachelor's in communication in 2008. She then returned to Wyoming and began attending the University of Wyoming (UW) for both her master's in communication and her doctoral degree in education which she earned in 2010 and 2018, respectively.
Dr. Danaei has been teaching and advising in higher education for over thirteen years. She has gained valuable experience at four Wyoming colleges in housing, admissions, and registrar offices. Most recently, she has served as an Assistant Professor of Communications at Western Wyoming Community College where she also served as the department coordinator. She has further lent her expertise as an adjunct professor at UW for nearly three years.
Deeply committed to students' success, she often presents at ongoing educational programs to strengthen her skills and keep abreast of current research. Conference presentations include the Northern Rocky Mountain Educational Research Association, the National Communication Conference, the Wyoming Innovations Conference, and Popular Culture Annual Conferences.
"One of my favorite quotes is, "Education is the most powerful weapon which you can use to change the world" from Nelson Mandela," says Danaei. "I believe each student is capable of anything with enough determination, perseverance, and Wyoming grit. I am excited to be back at UW, working with future energy leaders to meet their educational and career goals. This will be a great blend of my research and publications in mentoring coupled with students developing self-awareness, resilience, and content expertise. There has never been a better time to be a Cowboy!"
Dr. Danaei has hit the ground running and is already busy establishing herself and meeting with students before taking the reins from long-term SER employee, Pam Henderson, after her retirement later this month.
The team at SER welcomes Dr. Danaei and is excited by the exceptional contributions she will undoubtedly make to the students, the university, and the state.