Student Highlight: Alyson White Eagle–SoundingSides
May 14, 2021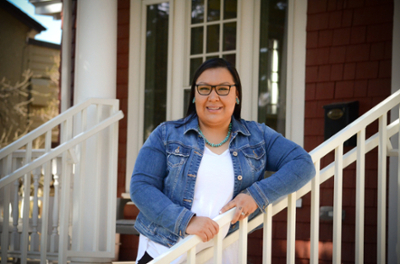 Today is a momentous occasion for many students on campus. Graduation marks the culmination of years of hard work – time spent pursuing a passion that will open doors to the future. For those that achieve this significant milestone, it serves as an important reminder of all that has been accomplished and all that can be. This anecdote is certainly true for School of Energy Resources (SER) graduate, Alyson White Eagle–SoundingSides.
A nontraditional student, White Eagle–SoundingSides was already a wife and mother to two beautiful daughters when she enrolled at the University of Wyoming (UW). After taking a smattering of courses over the years at the community college level, she was finally able to commit to school full-time and realize her dream of a degree.
White Eagle–SoundingSides is a member of the Northern Arapaho tribe and hails from the Wind River Reservation in Wyoming. She was inspired to pursue a degree by her grandfather, Crawford White Eagle, Sr. A tribal elder, White Eagle will be conferred an honorary degree posthumously this year, making the occasion all the more meaningful. 
"My grandfather served on the Tribal Business Council and was a prominent leader in the tribe," says White Eagle-SoundingSides. "We would talk about the issues that we experienced on the reservation and how they were effected at the tribal, state, and federal levels, as well as the challenges that we were facing and why it was important to have a tribal member in these spaces to represent us."
White Eagle-SoundingSides took her grandfather's words and actions to heart.
"Who better to represent us than one of us," she affirms.
Initially in pursuit of a petroleum engineering degree, White Eagle–SoundingSides discovered that the Energy Resources Management and Development (ERMD) degree was a better fit and found herself well-positioned to accomplish her goals for the future. Not only did all of her previous coursework transfer over, she also was able to simultaneous gain valuable experience in science and math, as well as law and policy.
"There are a lot of things that you can do with this major," she says. "I love the science behind natural resources, but I also realized that I wanted to have a hand in the management and protection of our natural resources on the reservation. This degree gave me both."
Additionally, White Eagle-SoundingSides found the support she needed thrive in her studies.
"The professors are extremely accommodating and understanding," she says. "It is very difficult to parent while in school, but everyone was so supportive of families – especially during COVID."
Like so many others during lockdowns, White Eagle–SoundingSides found herself responsible for her children's education while trying to continue her own for much of 2020.
"The flexible and caring environment that was fostered at SER made it possible to keep going," she adds.
Throughout her time at UW, White Eagle-SoundingSides was an active member of the UW student organization Keepers of the Fire, and served on a UW committee for the retention and recruitment of native students to campus.
She has also served as a student ambassador for SER with a focus on recruiting students to the ERMD degree. It was in this role that she was also able to offer important input and influence. Stemming from her encouragement, SER had a booth at the Wyoming Indian Career Fair for the first time, and the school became active and involved in the Native American Summer Institute – bridging the gap with Native Americans in Wyoming.
Covering the spectrum of land issues from science to legal and regulatory policy, the ERMD degree is a natural springboard to law school and White Eagle-SoundingSides has proven to be a natural at advocacy. In the fall, she will resume her education at the professional level at the UW College of Law.
"My passion is really in the field and I love the sciences, but I came to the conclusion that I need to go further," she says. "This degree is the foundation that opened the door for me and now pursuing a law degree will help me meet the needs of our people and better serve the community."
Poised for a promising future as an advocate and a steward for the land and natural resources, White Eagle-SoundingSides will be every bit the leader she saw in her grandfather.