UW's Grana Named Wyoming Excellence Chair in Geology and Geophysics
June 21, 2021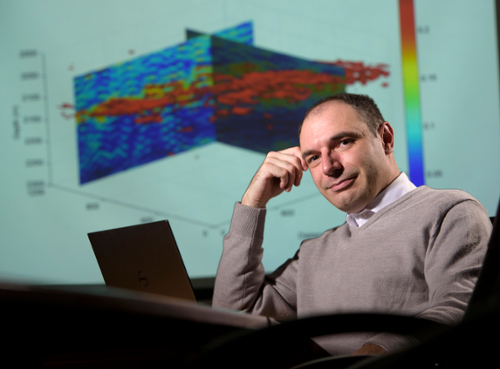 The University of Wyoming has recognized the prodigious work and efforts of Associate Professor Dario Grana by naming him the Wyoming Excellence Chair in Geology and Geophysics.
Dr. Grana has a split appointment with the a UW School of Energy Resources in the Department of Geology and Geophysics where he has worked diligently to advance the development of innovative and quantitative methods to improve the characterization of subsurface reservoirs.
The 2006 Wyoming State Legislature established the Excellence in Higher Education Endowment, which included a $70 million endowment to create senior faculty positions for highly distinguished scholars and educators at UW. The legislation states that the endowed positions must expand university instruction and research in disciplines related to economic and social challenges facing Wyoming.
The UW Wyoming Excellence chairs are nationally and internationally recognized leaders in their fields.
Professor Grana has excelled in the field of rock physics and seismic reservoir characteristics and techniques and has been internationally recognized for his efforts. In 2014, he was honored with the Eni Award for developing an innovative method to obtain information about oil and gas reservoirs using seismic techniques. In 2016 he was the recipient of the Society of Exploration Geophysicists (SEG) J. Clarence Karcher Award. The award is for significant contributions to the science and technology of geophysics by a young geophysicist.
"Dr. Grana regularly demonstrates research excellence, an aptitude for initiative and service activities, and a proactive approach to all he does," says Holly Krutka, Executive Director of UW's School of Energy Resources. "My team and I are continuously grateful for Dr. Grana's collaboration with us. I extended my gratitude to Academic Affairs for recognizing Dr. Grana's unique contributions and recognizing him with this much-deserved Wyoming Excellence Chair."
Grana's areas of interest include rock physics, geostatistics, and inverse problems for subsurface modeling, where he spends much of his time mentoring students. Helping to advance research opportunities for students in the field of seismic reservoir characterization, Professor Grana has supervised the education of numerous graduates.
A prolific author and scholar, Grana has published extensively on rock physics in peer-reviewed international journals as lead author, as a well as a rock physics textbook.
In addition to his research and teaching, he is the creator of the Bayesian Learning Consortium that is an industry-sponsored research consortium focusing on advanced quantitative methods for subsurface characterization.
Most recently, Grana has been a champion for diversity and inclusion on the UW campus in the STEM fields. Tackling issues of implicit bias and systemic racism, Grana developed a course in the fall of 2020 examining those topics called "Diversity and Inclusion in Geoscience." The course is intended to raise awareness on the lack of diversity, equity, and inclusivity present in academics, as well as to help underrepresented minorities cope with the challenges they may face in their careers. In conjunction with his course, Grana has also started a discussion group for first generation students in geology, geophysics, and energy resources in order to help them combat feelings of isolation and to better integrate and network with upperclassmen and professionals.
Professor Grana received a MSc in Applied Mathematics from the University of Milano in 2006, and a Ph.D. in Geophysics from Stanford University in 2013.