Department News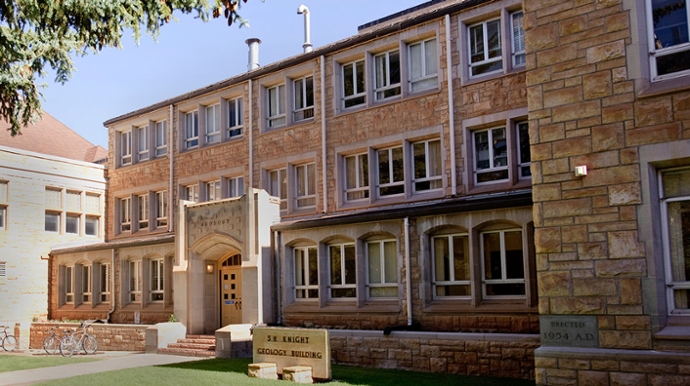 UW Department of Geology and Geophysics ranked best value for money
The Department of Geology and Geophysics at the University of Wyoming has been ranked No. 1 in the nation in a new "best value" list by College Factual, an online service that helps "every student get their best fit education for less".  The rankings also take into account the average time students take to graduate, as well as the quality the school provides and the average yearly cost of attendance.
College Factual also ranked the Geology major as the best major offered by the University of Wyoming for 2019. 
---

Welcome to our new members of the Department
We welcome the four new members of the department who arrived this Fall. From left to right: Vicky Boyles, Business Manager; Brian Kelley, Assistant Professor in Sedimentology; Tom Minckley, Professor in Biogeography and Conservation and J J Shinker, Professor in Paleo- and Hydro-climatology. Our future is in good hands!
---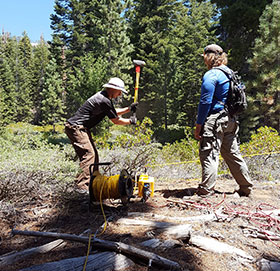 Porosity Production in Weathered Rock: Where Volumetric Strain Dominates over Chemical Mass Loss
Former PhD student Jorden Hayes and Assoc. Prof. Cliff Riebe recently co-led a paper published in Science Advances which challenges the conventional view that volumetric strain can be assumed to be negligible as a porosity-producing mechanism in saprolite. Weathering of subsurface rock in the Southern Sierra Nevada Mountains of California occurs due more to rocks expanding than from chemical decomposition. "Saprolite in the Southern Sierra Nevada Mountains is a source of water for ecosystems and humans." Riebe says. "Climate is changing. It helps us understand an important reservoir for water in the U.S. West."
Best Wishes and many thanks to Carrick Eggleston and Tammy Mack
During the summer both Carrick Eggleston (former Head of Department) and Tammy Mack (Department Administrator) moved on to different pastures.
Carrick is now Head of Civil and Environmental Engineering at Worcester Polytechnic Institute and an adjunct Professor here in the Dept. of Geology & Geophysics.
Tammy moved next door to the Wyoming Geological Survey and is now their Administration Manager. We wish them both well with their future careers, and thank them so much for all that they've done for the Dept. of Geology & Geophysics.