UW School of Energy Resources to Host Booth at the NAPE Annual Summit in Houston, August 19-20
August 17, 2021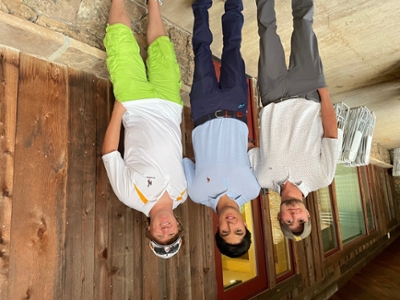 The School of Energy Resources (SER) will be hosting an exhibitor booth at the NAPE (North American Prospect Expo) Annual Summit in Houston, Tex. NAPE is an organization to benefit the energy industry at large through programs such as education, legislative and regulatory advocacy, technical publications, public lands access efforts, scholarships and more.
The NAPE Summit creates an environment to establish strategic alliances for doing business and making deals by providing a marketplace for the buying, selling and trading of energy prospects and producing properties via exhibit booths — both in person and online. Also on the show floor, vendors and services providers showcase the latest technologies and services available to the industry, educators, capital providers and law firms.
Serving as the Director of the Professional Land Management (PLM) program, SER lecturer Kris Koski will be representing UW and the academic program this year at the Expo. He will be accompanied by two junior PLM students, Kieran McMullen and Eli Vigil, both of Castle Pines, Colo.
"Given the importance of energy production to the State of Wyoming and Rocky Mountain Region, it is important that UW has a presence in the rapidly evolving landscape for energy and education," says Koski. "Students need to be well informed on what the future may look like in energy and how they will fit into it. Energy will always be needed, and our graduates will always have the opportunity for a career in the sector as it evolves."  
The PLM program is one of 10 undergraduate accredited programs nationwide by the American Association of Professional Landmen (AAPL). In addition to managing the land profession and serving as a resource for support, ethical standards of practice, career advancement and legislative advocacy, AAPL is one of four partner entities that comprise NAPE and has a major presence at the Expo.
"The expo provides an opportunity to network with industry, our accrediting body and other Professional Land Management programs to share ideas, keep apprised of energy developments and to put our students in front of prospective employers," adds Koski.  
In addition to navigating the future of energy, it is important to stay connected with UW alumni that have already forged careers in the industry. SER hopes to connect with alumni and potential employers for future students.
"Anyone that has graduated from UW knows what a special place this institution is and the connection that we all share," says Koski. "We are looking forward to catching up with our Houston area alums at the summit and strengthening our ties with our UW family."
The UW booth will be among other academic institutions and located near the new renewable energy pavilion. SER encourages everyone attending the conference to visit the booth.
Following the event, SER will be hosting an ice cream social for prospective students from 3:00 to 5:00 pm at the Marble Slab Creamery on August 20. Prospective students will have an opportunity to chat with graduates, current students, and Professor Koski. Anyone interested in learning more about the School of Energy Resources is welcome to attend!