Student Profile: Juliana Santarelli
November 5, 2021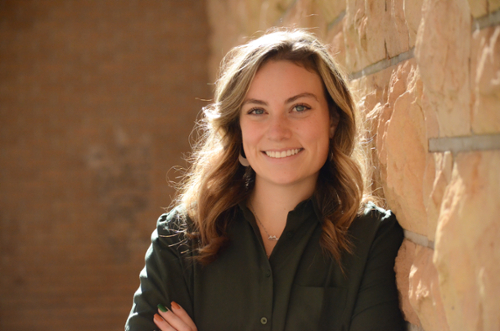 Women in science technology, engineering, and mathematics (STEM) fields have made significant strides in recent years to increase representation and participation. The School of Energy Resources (SER) is proud to facilitate the critical role of girls and women in the scientific and technological communities through the Energy Resources Management and Development (ERMD) degree.
Often considered an important draw to the field is the visibility of existing peers and role models – at least that is one of the things that ERMD senior Juliana Santarelli noted.
"You might not see that you are a role model for someone else, but knowing that you might be does push you to be more comfortable with who you are and what you are doing," says Santarelli.
 A native of Colorado, Santarelli decided to attend the University of Wyoming because of the small town feel and positive learning experiences that result from the close-knit campus community.
Always attracted to STEM, she began her undergraduate degree as a petroleum engineering major, but quickly switched over to the School of Energy Resources when she realized she wanted a broader energy education.
"I was interested in energy development from the offset of my education, but I wanted to gain exposure to a wider variety of fields instead of having one specialty," she says. "The ERMD degree was a natural fit because it is so interdisciplinary. I have taken classes from many different professors across multiple departments in engineering, agriculture, business and law."
Santarelli is pursuing her ERMD degree with a concentration in Energy and Environmental Systems concentration – the more science heavy option of the academic program.
With a curriculum dominated by valuable courses in water quality, soil science, and environmental management, she has also taken courses outside the box in law and business to understand what other aspects of the industry do and how they all fit together.
"It is very interesting to get the different viewpoints and knowledge," she says. "The spectrum of topics is really indicative of what a career in energy actually looks like."
The versatility of the degree has also allowed her to easily pick up dual minors in Reclamation and Restoration Ecology as well as Rangeland Ecology and Watershed Management.
Santarelli is a natural leader and has consistently taken any opportunity afforded to her to positively represent herself and the University. She is the president of the Chi Omega Sorority, and a member of the student organizations ROAR! and the Student Chapter of Energy Resources.
"Getting involved on campus and in sorority life has really prepared me for my future in the workforce," she says. "I've had the opportunity to really grow into leadership roles and work with different people and places to gain the confidence to overcome stressful situations."
That confidence has brought her full circle to what it means to be a woman in STEM.
"At first it can seem daunting to be a woman in STEM since it is a historically male-dominated field, but rising to the challenge and pushing myself out of my comfort zone has made me strong and more comfortable," she adds. "Other women in engineering have been overcoming those barriers and showing the world that we belong in STEM – I can do it too."
With her interests leaning towards renewable energy and reclamation, Santarelli hopes to utilize her degree and her experience to help the energy industry transform and meet new goals through the development of new technologies and energy resources.
"I really love the diversity of energy and how it applies to everything we do," says Santarelli. "We need energy. I am looking forward to being part of the change and making a difference in my future career and I'm confident that my degree will open doors to opportunities worldwide."