The Center for Energy Regulation and Policy Analysis at the School of Energy Resources Releases Two New Working Papers
December 6, 2021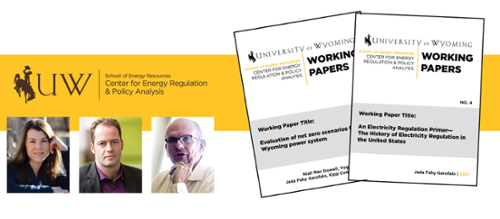 The Center for Energy Regulation & Policy Analysis (CERPA) at the School of Energy Resources (SER) has posted two new working papers to its working paper series.
The first paper released is an Electricity Regulation Primer authored by SER Research Scientist Jada Garofalo. The paper provides the history of electricity regulation in the U.S., which is meant to help states navigate the impending shift in generation, regardless of the regulatory scheme that operates where they sit.
Serving as a foundational resource, the primer will enable future work on the topic that will explore and recommend ways to value, prioritize, and define resiliency in electricity systems in order to facilitate the forthcoming transition that is likely to encompass varied forms of electricity generation and numerous regulatory schemes.
"Electricity regulations are a complex web of state and federal laws that interact and guide the market for electricity sales," explains Garofalo. "The Primer provides an overview of this regulatory backdrop, discussing how the system has shifted from one that institutionalized the natural monopoly characteristics of a fully integrated utility to one that embraces, and even facilitates, competition through open access transmission and generation dispatch markets. Given the impending energy transition, regulators and policy makers will need to understand the nascent beginnings of electricity regulation in order to modify, create, and enforce electricity regulations that are well-suited to the energy transition. It is my hope that this Primer provides useful information for students, regulators, and policy makers."
The second working paper released entitled, "Evaluation of Net Zero Scenarios for the Wyoming Power System," presents a scenario-based techno-policy analysis of a range of pathways for Wyoming to transition to net zero.
Led by CERPA research affiliate Niall Mac Dowell of Imperial College London, the study is a collaborative piece written with Garofalo, as well as co-authors Yoga Wienda Pratama of Imperial College London, and Kipp Coddington of SER.
"It has been wonderful to gain perspective from collaborators in a different country and to pair our complimentary expertise to present a unique perspective on Wyoming's generation profile," says Garofalo. "Niall and Yoga's modeling  illustrates how policies, such as a modified section 48A tax credit and an enhanced section 45Q tax credit, may make a significant difference in Wyoming's ability to both use some of the existing coal fleet and reach net-zero in its generation profile as we approach 2050. This was a fun collaboration!"
The working paper platform through CERPA is intended to provide open access to timely and relevant information on important energy research topics in the state, and serve as a method to solicit academic feedback prior to publication.
Wyoming stakeholders and interested parties are encouraged to read and discuss material in the working paper series, and may send comments or questions directly to the lead author at his or her email address.
The authors of the papers are solely responsible for the content of their contributions. Authors may post updated versions of the paper to provide readers with their most current findings as pieces continue to make their way towards peer review and ultimately publication.
Once an article has made its way through the formal peer review process and is published elsewhere, it is removed from the working paper site and made available in the publications section of the CERPA resources website.
To read the most recent working papers, visit the CERPA website and download the latest versions.
Copyright to papers in the SER Centers of Excellence remains with the authors or their assignees. Users should respect copyright of the working paper and give proper attribution when quoting from material. (Please reference SER's  copyright notice for more details).