December Commencement Celebrates Energy Graduates, Alumni and First Graduate with New Energy Resource Management Minor
December 10, 2021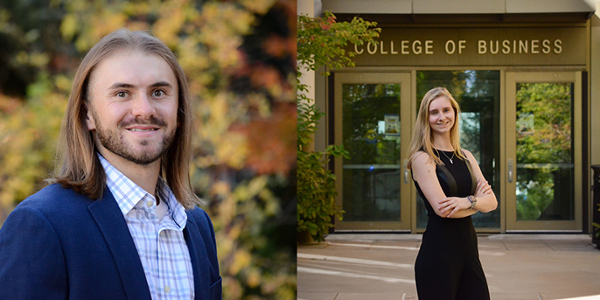 The winter commencement ceremony is a major milestone for the School of Energy Resources (SER). This year, SER will celebrate graduates in the Energy Resource Management and Development (ERMD) degree program, acknowledge past alumni, and the day will also mark the occasion of the first graduate to complete the minor program that was launched in fall 2021.
The minor in energy resource management (ERM) was created to pair a wider array of UW undergraduate students with specialized energy instruction to supplement and enhance their education. The versatile minor benefits students who are interested in business, economics, finance, engineering, science, law, real estate, lab sciences, land management, political science, sociology, agriculture, and environment and natural resources.
Meredith Hoerman of Franklin, Tenn. will graduate from UW with a B.S. in Management with a concentration in entrepreneurship, and minors in economics and energy resource management.
 "I heard about the minor program in a campus email and just started taking some of the classes," says Hoerman. "I realized that I had already taken the required courses for the minor and was able to take advantage of a really cool opportunity to incorporate energy into a tailored minor."
To fulfill the remaining credit requirements, Hoerman was able to select courses from wide array of approved courses that suited her other areas of interests and provided her with a unique understanding of how energy related to her existing studies.
"I firmly believe that the minor will definitely help me in my career and expand my options later," notes Hoerman. "Wyoming is specifically tied to an energy development economy. All of the classes were very interesting and showed the untapped potential of Wyoming from an entrepreneurship perspective."
Hoerman was drawn to Wyoming by the beautiful landscape, the small class sizes, and the friendly campus. As she embarks on her career, she hopes to purse her ambitions out in the world, but ultimately come back to Wyoming and believes the energy minor will play a key factor in that goal.
"I'll be the first graduate with the energy minor, but anyone else that can add this minor should do so because it will open the door to different career paths and opportunities," adds Hoerman.
In addition to Hoerman, SER is celebrating the December graduates in the Energy Resources Management and Development (ERMD) degree program, and will also celebrate the 10-year anniversary of its first graduates.
Jak Tanner of Big Piney, Wyo. is the only ERMD student that will be graduating in the December ceremony. With a background rooted in the energy industry, Tanner pursued an ERMD degree with an Energy and Environmental Systems concentration.
"With the environmental side of things on the rise within the energy industry, and having experience working within oil and gas, I knew this would be the perfect major to pursue," says Tanner.
Following graduation, Tanner intends to work within the energy sector to help tackle and manage whatever environmental problems may arise in the continuously evolving industry.
"The experiences I have had here at the University of Wyoming have been unforgettable," says Tanner. "The knowledge I have obtained through the School of Energy Resources is invaluable and I am eager to pursue a career in the energy industry."
Meanwhile, SER graduates that have successful careers within the energy industry will be recognized. Sabrina Hamner Forbis and Kyle McDonald were the very first graduates in energy resource management and development, and have paved the way for others to follow.
A native of Riverton, Wyo., Hamner Forbis has a B.S. in ERMD and also holds a B.S. in Petroleum Engineering from UW. With extensive experience in production, reservoir and well completion projects for EnCana Oil and Gas, Inc. and the Enhanced Oil Recovery Institute, Hamner currently works for the Wyoming Oil and Gas Conservation Commission (WOGCC) as a petroleum engineer.
Kyle McDonald currently serves as an environmental scientist at Trihydro Corporation and is based in Jackson, Wyo. After completing a B.S. in ERMD and in Environment and Natural Resources, he completed his M.S. degrees in Rangeland Ecology and Watershed Management from UW. He immediately began working for Trihydro and is now an experienced and accomplished environmental scientist in Wyoming, with a demonstrated history of working in the environmental services industry.
"We are proud of our past and current graduates and all they have achieved," says SER Academic Director, Kami Danaei. "Seeing past graduates succeed in their careers, and now watching new students follow in their footsteps makes us confident that we are accomplishing what the degree set out to do when it was started. We look forward to expanding our alumni base and supporting future graduates to make a significant impact on energy development in Wyoming."