Virtual Exhibits
Hell on Wheels: Union Pacific Towns in Wyoming
Part 1 | Part 2 | Part 3 | Part 4 | Part 5 | Part 6 | Part 7 | Part 8 | Related Collections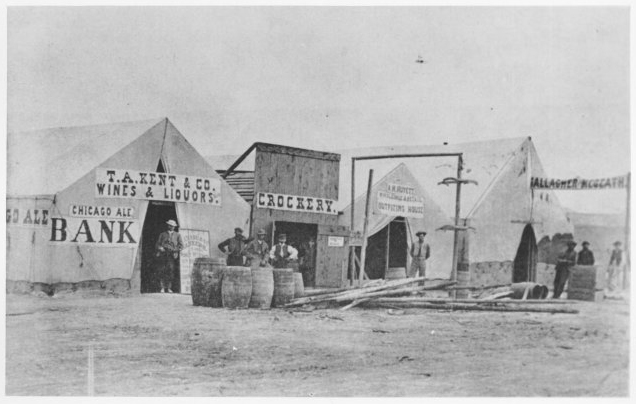 As the railroad moved westward, Wyoming end of track towns developed where needed, and not always in sequence. Some railroad workers moved in advance of the track laying, while others arrived with the construction. Temporary residents and business owners often moved with the railroad but others chose to remain in the more settled towns such as Cheyenne or Laramie.
Samuel Chittenden commented about the fate of one Wyoming end of track town, "This city is quiet enogh [sic] now and is pretty much played out. It has lived about as long as the towns along the road do and the gamblers are moving onto the next town…"
Some southern Wyoming Union Pacific railroad towns existed for only a matter of months then became ghost towns, others prospered and became permanent communities. However, all of these "Hell on Wheels" towns contributed to the construction of the engineering marvel which was the transcontinental railroad.
Part 1 | Part 2 | Part 3 | Part 4 | Part 5 | Part 6 | Part 7 | Part 8 | Related Collections