Virtual Exhibits
The Virginian
Introduction | Part 1 | Part 2 | Part 3 | Part 4 | Part 5 | Part 6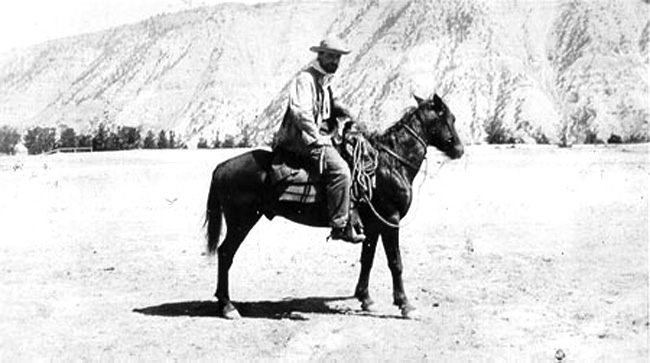 Photo: Owen Wister on horseback, by F. J. Haynes & Brothers, no date. Owen Wister Papers.
Wister was actually a well-to-do Easterner.  He was born to Dr. Owen Jones Wister and Sarah Butler Wister in Germantown (now part of Philadelphia), Pennsylvania, on July 14, 1860.  An aspiring composer, Wister graduated from Harvard University with a music degree in 1882.  After graduation, he studied music in France for a year and then returned to the United States.
In 1885, Owen Wister suffered an illness.  At his physician's suggestion, he traveled to Wyoming and summered at the V.R. Ranch of Major Frank Wolcott, then head of the Wyoming Stock Growers Association, near Glenrock, Wyoming.  As a result, Wister regained his health and became interested in the American West.
Between 1885-1891, Wister took five trips to the West.  He kept diaries in which he recorded his activities, observations, stories, and anecdotes. These diaries eventually provided material for The Virginian.  Today, the diaries are in the Owen Wister Papers, donated by Wister's daughter Frances K. Stokes to the American Heritage Center, University of Wyoming.
Introduction | Part 1 | Part 2 | Part 3 | Part 4 | Part 5 | Part 6