Animal Science Undergraduate Program
---
Animal Science majors at the University of Wyoming are offered unique opportunities to develop important skill-sets as they learn in the classroom and out in the field. The UW Animal Science Department, in combination with the Department of Veterinary Science, offers combined curriculum covering the animal science, food science, and pathobiology disciplines. Upon completion of certain courses within a degree option (options outlined below), students will have satisfied the requirements to earn a degree in Animal and Veterinary Science (ANVS). Coursework offerings embody the diversity of our students as we have Animal Science majors interested in everything from beef cattle production, to equine business management, to veterinary and animal biology studies. The variety of courses offered reflects the department's commitment to offering a well-rounded education that will prepare students for careers in a variety of animal agriculture fields. We hope you are interested in earning a degree in the Animal Science program at the University of Wyoming. 
We provide environments for students to learn
It is important that our program offers students an effective learning environment, which is why we strive to maintain our teaching facilities and are continuously working to expand our infrastructure. The department currently has ample classroom space, modern laboratories and excellent animal facilities such as a livestock and equine teaching arena and a meat processing laboratory. Our administration and faculty are committed to utilizing these to allow students the best opportunity to gain hands-on experience. 
Students are encouraged to get involved
It is without question that the University of Wyoming understands the importance of learning outside of the classroom. Our Animal Science faculty members work with students to conduct undergraduate research involving investigations of cutting-edge topics. The department also is re-invigorating its internship program to encourage students to seek competitive, meaningful internships as they work to discover their career interests and opportunities. One of the best ways to get involved in the department is to be an active member of any of our student-run organizations. Clubs such as the Wyoming Collegiate Cattle Association, the Food Science Club, and Block and Bridle offer Animal Science majors an opportunity to make connections with peers and gain valuable leadership experience. Finally, it is an accomplishment that the University of Wyoming is one of only five colleges that offer four competitive judging teams. Students who elect to be a member of the meats, livestock, wool, or horse judging teams are always incessantly sought after in the industry, which is why the Animal Science Department at UW supports them so heavily.
We want our students to be ready for a career
It is the UW Animal Science Department's ultimate goal to prepare students for a successful career in an animal agriculture industry. This includes not only provision of top-tier coursework, but also incorporates professional training and mentoring throughout a student's undergraduate career. The department has recently instated a mentoring program that pairs students with faculty members based on their similar interests. The two will work closely together through the student's four-year tenure to determine the most appropriate academic path while at the University of Wyoming, to discover career options that align with the student's passions and interests, and to develop a personal mentor relationship that will last a lifetime.
---
Degree Options
Undergraduate students pursuing an Animal and Veterinary Science degree from the University of Wyoming may elect to focus their studies on more specific disciplines within the broad Animal Science field. The UW Animal Science Department offers eight degree options that allow students to cater their coursework to more closely align with their career and extra-curricular interests. The department also offers a minor in Animal Science. For more complete details about each option and the minor, click here.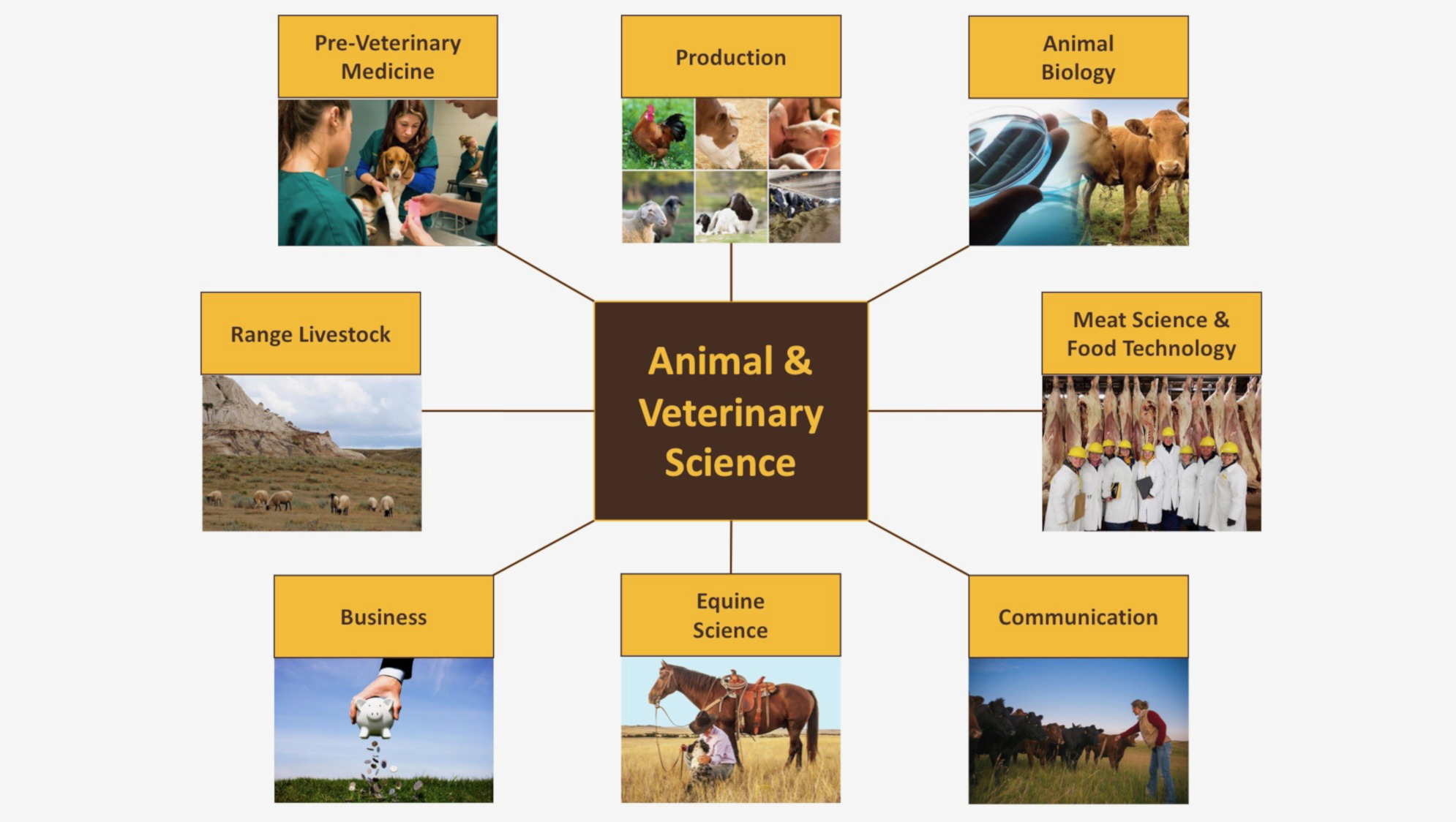 ---
Course Offerings
Animal Science courses
A description of all courses offered in the Animal Science Department may be found in the University Catalog.
Spring

ANSC 1009 Introduction to Animal Science for 4-H Youth
ANSC 1030 Equine Management
ANSC 2020 Feeds and Feeding
ANSC 2035 Companion Animal Nutrition
ANSC 2070 Livestock Behavior & Handling
ANSC 3010 Comparative Anatomy and Physiology of Domestic Animals
ANSC 3100 Principles of Animal Nutrition
ANSC 3550 Advanced Livestock Evaluation
ANSC 3555 Equine Evaluation and Selection
ANSC 4050 Animal Growth and Development (cross listed with ANSC 5050)
ANSC 4111 Equine Health and Diseases
ANSC 4130 Management of Reproduction
ANSC 4132 Equine Reproduction
ANSC 4220 Advanced Beef Production and Management
ANSC 4230 Advanced Sheep Production and Management
ANSC 4250 Advance Equine Production and Management
ANSC 4500 Problems in Animal Science
ANSC 4550 Internship in Animal Science
ANSC 4630 Topics and Issues in Animal Science
Fall

ANSC 1009 Introduction to Animal Science for 4-H Youth
ANSC 1010 Livestock Production
ANSC 1070 Livestock Fitting and Showing
ANSC 1101 First Year Seminar: Beyond Cowboys & Critters
ANSC 2010 Domestic Animal Metabolism
ANSC 3150 Equine Nutrition and Physiology
ANSC 3250 Equine Behavior and Welfare
ANSC 3545 Introduction to Livestock Evaluation
ANSC 3550 Advanced Livestock Evaluation
ANSC 3560 Advanced Equine Evaluation & Selection
ANSC 4120 Principles of Mammalian Reproduction
ANSC 4150 Physiology of Ruminant Digestion
ANSC 4260 Mammalian Endocrinology
ANSC 4500 Problems: Animal Science
ANSC 4540 Principles of Animal Breeding
ANSC 4550 Internship in Animal Science
Food Science courses
A description of all courses offered in the Animal Science Department may be found in the University Catalog.
Spring
FDSC 2040 Principles of Meat Animal Evaluation
FDSC 3062 Carcass Fabrication
FDSC 3063 Meat Processing
FDSC 3550 Advanced Meat Judging
FDSC 4090 Food Microbiology
FDSC 4720 Food Chemistry
FDSC 4800 Problems in Food Science
Fall
FDSC 1410 Food and Our Well Being
FDSC 3060 Principles of Meat Science and Muscle Biology
FDSC 3061 Livestock Slaughter Practicum
FDSC 3545 Introduction to Meat Judging
FDSC 3550 Advanced Meat Judging
FDSC 4800 Problems in Food Science
---

Contact us: 

University of Wyoming
Department of Animal Science, 3684
1000 E. University Ave.
Laramie, WY 82071

Phone: (307) 766-2224
Fax: (307) 766-2355
Email: animalscience@uwyo.edu
 Office hours: 
Monday - Friday 8:00 AM to 5:00 PM
---
Important Links