George C. Frison Institute of Archaeology & Anthropology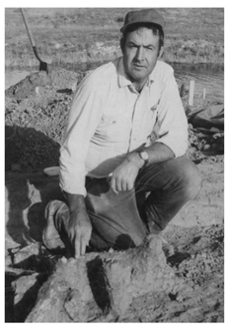 The mission of the Frison Institute is to enhance and promote the department of anthropology's research and educational programs. It achieves this goal largely by funding archaeological research in Wyoming and the Rocky Mountains, through student and faculty participation in international educational and research opportunities, and through public outreach, including an annual lecture (in September), volunteer participation in field and lab programs, public talks by the Director and department faculty, and cooperation with the Wyoming Archaeological Society. 

The Institute is named after George C. Frison, UW professor emeritus.  Born and raised in Ten Sleep, Dr. Frison spent his early years working sheep and cattle. But he devoted his spare time to collecting arrowheads, exploring the many caves of the Bighorn Mountains, and developing a love for the history and prehistory of Wyoming.  During World War II he joined the U.S. Navy and served in the Pacific.  Encouraged by several professional archaeologists, he entered the University of Wyoming to study archaeology in 1962.  He then attended the University of Michigan, obtaining his doctorate in a record three years.  Dr. Frison returned to Wyoming in 1967 as head of the new Department of Anthropology;  in 1968, he became the first Wyoming State Archaeologist. 

George literally wrote the book on Wyoming archaeology (Prehistoric Hunters of the High Plains).  His many books and papers have made him an internationally-recognized figure in archaeology. He has received the lifetime achievement award from the Society for American Archaeology, the University of Wyoming's Distinguished Former Faculty award, and the College of Arts and Sciences Medallion award.  When he retired, the state legislature celebrated George Frison Day to recognize his election to the prestigious National Academy of Sciences.  His commitment to quality research, his selflessness, and quiet western manners have enriched the lives of all who have known him.
Dr. Jason Toohey, Director

George C. Frison Institute
Anthropology, Dept 3431
University of Wyoming
1000 E. University Avenue
Laramie, WY 82071
(307) 766-6920
Email: jtoohey2@uwyo.edu