University of Wyoming,
Atmospheric Science,
EN 6034
Dept. 3038
1000 E. University Ave.
Laramie, WY 82071
Phone: (307)766-3245
Email:
parish@uwyo.edu

Academics
The Department of Atmospheric Science offers programs leading to the Master of Science (M.S.) and Doctor of Philosophy (Ph.D.) degrees. The degree programs incorporate both coursework and research activity components. students take core courses as well as elective courses chosen both from those offered in our graduate curriculum and by other departments. Each student's overall coursework program is individually tailored to specific needs and interests.
Every graduate student within the Department of Atmospheric Science actively participates in one of many projects, thereby usually receiving a research stipend. These projects offer a variety of exciting research opportunities, including participation in field experiments in the polar regions, and in those using Wyoming King Air research aircraft in various locations domestically and abroad. Laboratory studies, analyses of weather events, and numerical simulations of atmospheric phenomena are also conducted. This research work subsequently forms the basis of the student's dissertation or thesis, as required for graduation.
Basic requirements of the programs leading to the M.S. and Ph.D. degrees are given in the Regulations and Polices of the University Graduate Program.
Quick Links

Save
UW Graduate Student Chases Storms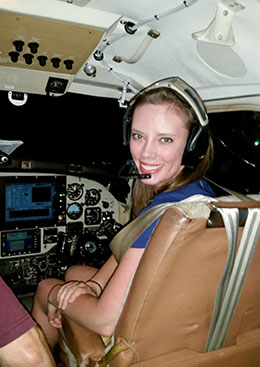 Storms in the Great Plains have the potential for massive destruction and can endanger many residents of those areas. Dana Mueller's research might just help keep those people safer in the future.